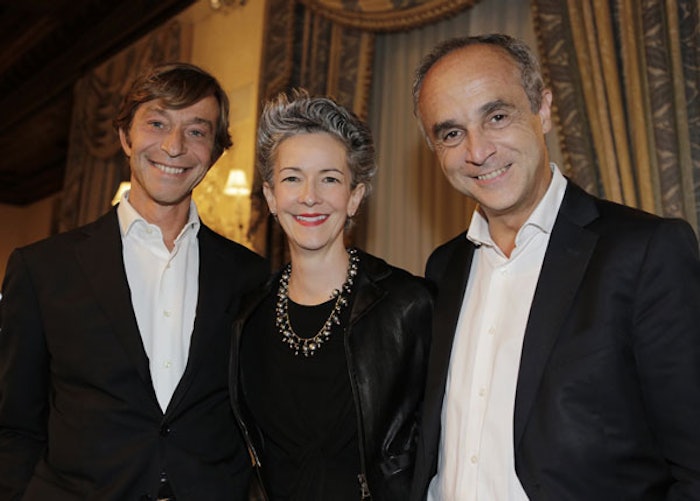 The innovative products and marketing strategies of Coty Inc. took center stage at CEW's Sept. 12, 2012, Newsmaker Forum held  at New York's Harmonie Club.  Armand de Villoutreys, global divisional president, Firmenich, provided background on the partnership between Coty and fragrance supplier, Firmenich that was forged in the early 1900s. "We are proud to be part of a collaboration that has brought CK One, Marc Jacobs Daisy, Lady Gaga Fame, Calvin Klein and more to the industry," said de Villoutreys. "Coty is a company of entrepreneurs and is still revolutionizing fragrances, with new products and a new business model. We take pride in our shared passion with Coty and are privileged to be your partners."
Coty's Extensive Portfolio
Coty, which was founded in 1904, has expanded considerably over the years, and recently added OPI, Sally Hansen and Philosophy to its portfolio. With 12,000 global employees, a new Coty Inc. CEO, Michele Scannavini, an entrepreneurial culture and diverse brand portfolio, Coty continues, according to the evening's presentations, to distinguish itself with new beauty and fragrance additions.
According to Scannavini, taking the podium following a brief video exploring Coty's culture and brand portfolio, the beauty industry is indeed unique. "You have to be able to imagine business and treat each brand in a different way. Beauty is part of the dream and we are in the place where we can be part of the dream," said the man with a wry sense of humor seen driving a blue Vespa in the program's opening video.
Scannavini, who joined the beauty industry 10 years ago and was responsible for the global business activities of Coty Prestige (managing such brands as Balenciaga, Bottega Veneta, Calvin Klein, Cavalli, Chloe, Marc Jacobs, Jennifer Lopez and Philosophy) is part of the team that has transformed Coty into a multi-segment beauty company with leading market positions in North America and Europe.
When discussing what he thought his previous affiliations had in common with the beauty industry, most notably positions at Fila, Ferrari and Maserati, and Procter & Gamble, he said "nothing." However, he elaborated, "Respect for brand image and brand equity translate from all of those influences, and help to come up with the formula to make it work." Over the past 10 years, Coty has undergone transformation under the leadership of Bernd Beetz. It is a company with $4.6 billion in sales, and, according to Scannavini, is successful largely due to two key elements: innovation and culture. "We like to think we can change the rules. We're not happy with a safe bet, with banality. In a sense, we're redefining beauty. The important things that Coty has brought have energized beauty," he said.
On culture, he stated, "Our culture is very important. I'm fortunate and proud to work with extremely talented people that are used to taking risks and doing the job. One of my most important tasks is to provide the best environment and freedom for them to do their best. So, talking about talent and great visionaries leads me to introduce Catherine Walsh and Renato Semerari.
Panelists Discuss Innovation
Jill Scalamandre, chairperson, CEW moderated the panel, providing background on the evening's guest speakers. Renato Semerari, as president of Coty Beauty, manages all Coty brands available in mass distribution in the Americas, Europe, Asia and the Middle East. His responsibilities include seeking new business ventures and collaborations, as well as overseeing the development and expansion of the portfolio. He also serves on the executive committee of Coty Inc. Prior to his appointment in 2009, he served as president and CEO of Sephora Europe, where he was responsible for 12 subsidiaries and an extensive store network while overseeing Sephora's growth and expansion.
Catherine Walsh is the senior vice president of American fragrances, overseeing the Coty Prestige Portfolio of brands, including Calvin Klein, Marc Jacobs, Jennifer Lopez, Vera Wang and Balenciaga. She is responsible for the company's designer and celebrity fragrance portfolio, and is an architect of Coty Prestige's evolution as an industry trailblazer, noted for her foresight in predicting the next trend in the category.
Like Coty's tagline (Faster, Further, Freer), the portfolio demonstrates the brand diversity of Coty, and the apt emphasis of the evening's conversation on innovation. From Calvin Klein Euphoria, to Cool Water Davidoff, Chloe, Daisy, Truth or Dare, Jennifer Lopez, Nautica Fragrances, Rimmel London, Lady Gaga, Playboy, OPI and Adidas, the portfolio is indeed extensive and varied.
While celebrity is apparently strong, Scalamandre noted that the percentage of Coty's fragrance business devoted to celebrity is 6%, while 53% of the entire portfolio is devoted to the fragrance business. Semerari spoke to the question of innovation in the culture of the company. "Innovation is very important in the beauty industry. Ten years ago, we were like dwarfs with the ambition of playing in the NBA. The others had bigger muscles and they were playing with us. For us, it's a bit like behaving like a start-up everyday. I think we give ourselves the possibility to dare a bit more."
Using Playboy as an example, Semerari described how the brand was lifted from its "dusty bin of the past" image to a successfully reinvented brand. "I think we twisted the paradigm with Playboy. The seduction game is very much alive for young men and girls, which is why we did the 'Press to Play' campaign. This supported Playboy as one of our most successful brands," he said.
"I've never worked on the beauty side, but I think the innovation process is the same on both sides," said Walsh. "Coty does a great job with innovation across the whole culture of the brand," agreed Scalamandre, citing Coty's success with Madonna's Truth or Dare and Lady Gaga's Fame, as part of their portfolio, and noting the role of packaging in the fragrance industry. "It has become an important tool when it comes to fragrance. Packaging immediately provides you with instant theater in the store. One of my favorites is Marc Jacobs Daisy," she said.
Walsh described how Coty did a scratch and sniff window at Harvey Nichols in London for the launch of Daisy, and customers could come up to the window and smell Daisy. "That campaign really took off," said Walsh. "Packaging is one of the great tools," she said, as she demonstrated the Glowing Eau de Parfum Spray by JLo, which stays lit for 12 seconds once you spray.
Scalamandre noted the new Lady Gaga Fame fragrance, with its Little Monsters ad campaign and surrounding buzz. "She's very intense and talented," said Semerari. "We came up with a black juice, which she was very happy with. Her soul is black," he said, noting that a new technology was devised to prevent the juice from leaving a stain. "It's an innovative technology with a harmony of ingredients that along with Firmenich we came out with, and it's off to a very good start," said Semerari.
Walsh added, "Calvin is a fascinating brand and it still resonates because the man was a visionary and he created a fragrance based on his personal life, and he really knew how to push his brand. What he did was bring raw honesty and combine fragrance and sex, not sensuality." She recalled the breakthrough ad campaign with Brooke Shields saying, "Nothing comes between me and my Calvins."
"Obsession, likewise, was sex in a bottle," she said. "It's evolved by always trying to tap into the zeitgeist. Calvin Klein had a way of putting all these things in front of your face, and today it continues to be a huge global brand."
Semerari discussed Playboy's success as a lifestyle brand, which, he says, "plays different chords for younger men and women. It's a teenage brand now. Teenagers don't have the same image in their minds that we do of Playboy. Now, it's a way of behaving at school and it's seen differently." He added, "Adidas is also a big brand, particularly with deodorants and fragrance. It about performance and sports, all the elements of the 20-35 year-old market."
The Criteria For Getting It Right
According to Semerari, "When Lady Gaga doesn't scream, you're getting it right." Walsh noted, however, that there is a list of criteria that is followed. "With celebrities, we check how global a celebrity is, how likable they are and how big they can be," she said. "The fascinating thing is that celebrity fragrance is a very big and accepted part of a young woman's career. They see it as part of their brand building. This is especially so for women more than men."
Regarding crossover brands, Walsh cited CK One as a perfect example. "The brand is 18 years old and it caters to both men and women. It is 52% men and 48% women, split almost evenly," said Walsh, "and has always had a reputation with the cool culture." In addition, she said, it appeals to individuals from the age of 13 to 54 years old. "It's pretty impressive," said Walsh.
Color Cosmetics and Skin Care
While fragrance is said to be 53% of Coty's business, both color cosmetics and skin care are in growth mode. Scalamandre noted that 28% of the Coty business is in color cosmetics, and mentioned Sally Hansen as part of the portfolio. Semerari agreed, "Nails are a fantastic category. When I joined the beauty industry, a lady would wear all Chanel. Later you would see a Chanel jacket with jeans, and then you saw people mixing and matching colors, which is easier to do with your nails than with your face." He added, "The nail trend really started in the U.S., but we have seen it spread globally, with nails in cheetah patterns and more. OPI is a fantastic story, too. They had a vision of making nail color a fashion accessory."
Walsh noted that Calvin Klein is re-launching its color brand. "This is the fourth time around, and we've learned from past mistakes. We've got an entry level price point with designer cosmetics packaging, so you're getting good value. We've also learned in our research that you have a consumer that maybe only wears lipstick, like me, so now we've segmented the products based on the way a woman shops, so it's really easy to navigate."
Semerari added that 16% of the Coty business is in skin care, and cited a skin care line called T-Joy, a brand founded 20 years ago and remains the Chinese platform for Coty. "It comes from the Chinese herbal tradition and is based on ginseng. It's very important for us to be there in China, where skin care is 60% of the Chinese market," he added.
When asked how it's possible to manage everything, Walsh responded, "It takes a village. There's very strong entrepreneurial spirit and people speak up a lot. They're paid to do that. In addition, there's a lack of layers that enables us to work in groups and across groups. Empowerment is vital to the culture," said Walsh.
When asked what keeps the two panelists up at night, Samerari replied, "When I'm in Asia, it's the soccer matches in Europe." For Walsh, "Nothing keeps me up at night because I worry all day."
Sponsors for the event included Prevention, Firmenich, Arcade Marketing, Beauty Inc, Nordstrom, WSL Strategic Retail, 24 Seven Inc., SGD Group, SelectNY, Beauty.com, WWD, Kaplow, Indelible and two new sponsors: the Aptar Group and the American Association of University Women.