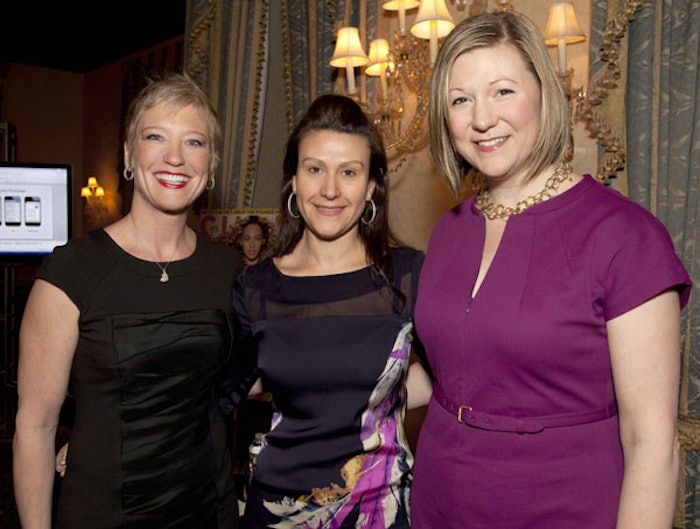 Savvy consumers around the world are increasingly engaged in e-commerce and interactivity in the digital space, and key leaders from high-performing brands are leading the charge. On March 28, 2013, Cosmetic Executive Women (CEW) invited three speakers to share their approaches to utilizing the online landscape to best advantage. On board for the evening's discussion were panelists Erin Hunter, global head of CPG marketing, Facebook; Jennifer Kasper, GVP, digital media and multicultural marketing, Macy's; and Kelly Solomon, vice president, e-commerce and multi-channel, L'Oréal Paris.
The speakers discussed their approaches to Maximizing Mobile Moments, as part of CEW's Women & Men in Beauty series. Providing context for the evening's event, moderator, Jenny Fine noted that U.S. e-commerce sales had reached $370 billion dollars and though smartphones are used for commerce, there are plenty of gains that can still be made in mobile commerce.
According to Carlotta Jacobson, President, CEW, "Mobile is now a part of consumer's everyday lives. These three industry leaders know first hand how to use emerging platforms successfully to reach their brand's target audiences." Ubiquity not withstanding, mobile is the wave of the future, and the outreach tool of the present.
"What's most important to me is data points," said Solomon. "In 2014, more people will access the Internet by mobile devices than they will through desktops. You're now thinking about smaller screens to access the web. In addition, in 2014, more retails sales will be influenced by the web. This is super important when you're thinking about multi-channel campaigns."
Kasper added: "We're always thinking about interpreting our sales in digital form. Our strategy is to tether digital around solving customer problems."
"If you had told me 15 years ago that I'd be putting my personal information on the Internet, I would have been surprised," said Hunter. "But, with Facebook, you know who you're speaking with. For example, luxury brands are active on Facebook, and for brand marketers, it's useful to know about the customers you're engaging with. When you think of Facebook as an advertising platform, you can see a cohesive message delivered by brands."
Kasper said, "At Macy's, our mobile strategy is to find out what kind of solutions we can provide to our customers to enrich their experience. We have a Macy's mobile app, which in addition to being user friendly, offers a special experience, including a tool to navigate the store and events in-store. For Black Friday, we created a mobile tool to aid in planning one's Black Friday attack, including where each special was located within each specific store."
According to Kasper, "Many people used it as a planning tool, and the 'aha' moments were the things we didn't expect."
Personalizing The Digital Space
"Being a brand in a mobile space is interesting and we have so many opportunities," said Solomon. "We started with our brand site, with four beauty categories. It gives consumers the ability to research products and look at videos. After an arduous process, we decided it should be a digital platform and a marketing platform, to sell products to customers both in and out of the store, as well as when they are in 'couch mode.'
"It speaks to personalization and customization, with a digital platform that welcomes users to L'Oréal Paris, offering featured products, celebrity looks and personalization optimized across every device to be accessed everywhere. It also offers fresh editiorial updates, personalized consultations and opportunities to find your signature beauty."
According to Solomon, the platform, which launched in January 2013, is comprehensive. "There's no end to the data it generates, which offers a precise and richer experience."
"One objective is to drive sales," Kasper added. "We're in the business to drive sales. First and foremost, we're seeing customers access mobile coupons and deals, and we're starting to tag our ads with calls to action. We're mindful of the fact that many millenials don't open a newspaper, so it's about rich media options serving customers.
"There's a reach tool here. It has to do with 'geo-fencing,'that is, where is the customer and what is her location. We want to communicate with the right thing for her at the right time. True to Macy's brand, we've played around with augmented reality, for example, the 'Yes, Virginia,' animated character. We also have Bobbi Brown as part of our Backstage Pass, where customers can access Bobbi Brown videos, which have been found to enable product growth."
The Bobbi Brown video instructs users to "prep, correct, conceal and set," and then invites users to come to the counter to get the look they want.
Clearly, mobile devices have shifted the online landscape, with more content generated and consumed, and more commerce conducted via smartphones and tablets; and while sales are key, there is a new character to online conversations, ultimately providing the potential for broader engagement, specificity and influence.
"We're proving that advertising on Facebook does drive in-store sales," said Hunter. "When you think about how much commerce is influenced by social commerce, we will need to continue to measure this. We did 60 studies, of which beauty was a set, and which showed that in more than half the cases, the advertiser got a return of five times or more. This shows the importance of having the right message, which should be cool and smart, to drive the store sales."
Solomon added, "We agree. We're obviously passionate about a return on investment. You see the digital influences as you do a marketing mix analysis."
"A lot of people don't realize that Facebook is an advertising platform, which we have to get marketers to understand," responded Hunter. "I want to know what your [Key Performance Indicators] are and we can help you target your audience with a targeted message and we can reach a billion people across the globe." [Key Performance Indicators are quantifiable measurements that companies use to gauge and compare performance in terms of strategic goals and operational goals.]
Realms of Influence
According to Macy's Kasper, "In the mobile space we look at our competitors. We admire Sephora, we look at Starbuck's and we look at Nordstroms."
"We look at multi-channel sources," added Solomon. "They know you individually. We also look at Nordstroms. They were early adapters of different kinds of advertising."
"We have taken note of the mobility-enabled services that are cropping up and that are incredibly smart," said Hunter, citing the example of Task Rabbit, which she noted can provide access to a wide range of services, even providing help in putting together a table from Ikea.
Kasper mentioned the new Oreo's campaign, and how they are figuring out ways to open this brand in ways a cookie brand never would have done 10 years ago. Hunter concurred, also citing Newcastle Ale and Mr. Clean, in addition to Oreos. "To take a banal category and find ways to keep it fresh and relevant is key," she said. "These messages are being passed along. If a cleaning brand can do it, a beauty brand can easily do it."
Announcement
CEW chairwoman, Jill Scalamandre announced a new partnering initiative between QVC and CEW: Beauty With Benefits. On April 25, 2013, viewers can tune in to Shop QVC and CEW's Beauty with Benefits program, with all net proceeds to benefit Cancer and Careers. Additional information is available at www.cew.org and www.qvc.com.
Sponsors of the presentation included Shape, Givaudan, 24 Seven Inc., HauteLook, eXperticity, WSL Strategic Retail, Beauty Inc, WWD, Kaplow Communications and RG 3.0.