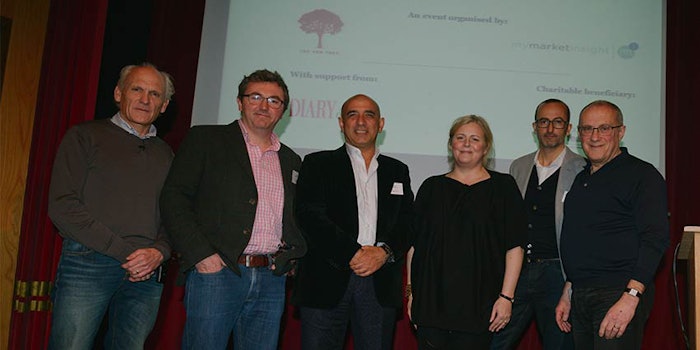 What does the digital channel mean for beauty brands in the United Kingdom and beyond, and what are its limits? These were some of the questions at  the core of The Beauty Symposium, recently presented by The Red Tree and hosted by Stirling Murray (The Red Tree Consultancy) and Mike Ramseyer (My Market Insight). Net proceeds from the event were donated to to the charity Look Good Feel Better.
How Not to Engage Bloggers
If brands want to engage beauty bloggers, they should take the time to find their proper contact information, said Jane Cunningham, founder of britishbeautyblogger.com received a total of 4.5 million hits in 2015.Yet she often receives requests to "just pop something up" on her carefully curated site. This is a definite no-no.
Harnessing Social
In a world in which more people own mobile devices than toothbrushes, personalization is a crucial aspect for consumer engagement, said Leon Hughes, senior associate, e-commerce at Piper Private Equity. Technologies such as messaging apps can boost relevancy of marketing messages, he noted. Hughes added that social media channels are beginning to pay off for marketers and that a desktop strategy is crucial to have a holistic digital strategy.
But even as technologies and strategies shift in the digital space, the fundamentals of shopping have not changed, noted Justin Sedgmond, co-founder of Boutique Social. Shopping must have a fun factor, he said, adding that social buy buttons provide both relevancy and instant gratification. 
The Beauty Omnichannel
Since launching its first beauty concept department in 2012, M&S, the fourth largest retailer in the United Kingdom, has captured 2.4 million unique beauty shoppers and 1.3 million Facebook fans.
The retailer now nets 20% of its beauty sales online, but digital is not done growing, said M&S brand consultant Tracey Woodward. While educated staff have boosted results for the retailer, so too have partnerships with Josh Wood, Mary Greenwell and Rosie Huntington-Whitely.
Millie Kendall of Ruby and Mille, noted how her brand had leveraged multichannel marketing. The brand launched in premium retail before landing in the mass channel with Boots. Ruby and Mille can now deepen its consumer engagement via social, Kendall added.
However, having new communication/engagement platforms does not automatically make brands better communicators, warned Herbie Dayal, co-founder of King of Shaves and KMI. While social media may be seductive, in fact a clear brand identity and strong targeting of audience and distribution are the true keys of success. Only if these key elements are sorted will a social strategy be effective.