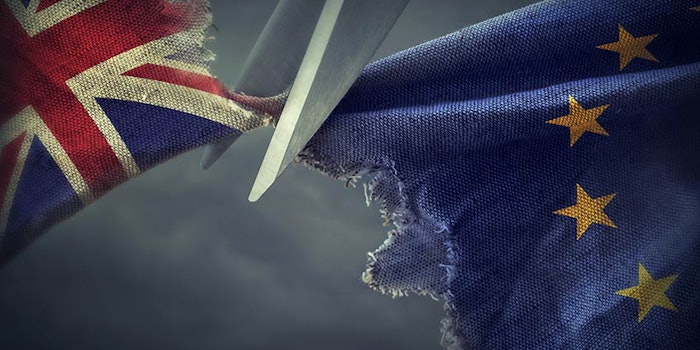 CEW UK hosted a mentoring event on the challenges facing businesses as the U.K. exits the European Union (EU).
Chris Flower, director-general, and Emma Meredith, director science, both of the CTPA, spoke at the event. CTPA is the U.K. cosmetic, toiletry and perfumery association representing every aspect of the industry, including suppliers, manufacturers and retailers of cosmetic and personal care products.
Flower began by noting that "it is essential that the U.K. and European Union speak with one voice," in regards to what will impact the United Kingdom, as well as the 27-member states of the EU. The cosmetics industry should expect production, distribution and wholesale to be heavily impacted by Brexit. He continued, stating "what was once a seamless production, could be a big issue to look forward" as access to the EU market, U.K. market and all current goods available are at risk.
Related: CTPA: "Getting the Best from Brexit"
Around 19,000 EU regulations must be transferred to UK law, including EU Cosmetics Regulation. Flower advised that businesses within the UK and EU begin crafting a plan, setting deadlines and remain prepared for new regulations. With an expected "Brexit" date of Jan. 1, 2021, Flower concluded that "it is imperative that we remain informed on the current and new legislations that could emerge."
Meredith offered insights on environmental plastic, including how non-degradable materials found in the ocean are frequently the direct result of littering or wrongly-disposed materials. The cosmetics industry contributed .29% of the ocean's micro-plastic litter. She noted that a "holistic approach to plastic" will be vital in reversing environmental damage.
Additionally, Meredith discussed how 'free-from' and 'hypo-allergenic' are misunderstood within the cosmetics industry, further driving the desire for clearly communicated branding and packaging. She offered six common criteria for cosmetic claims: legal compliance, truthfulness, evidence support, honesty, fairness, and allowing informed decisions.