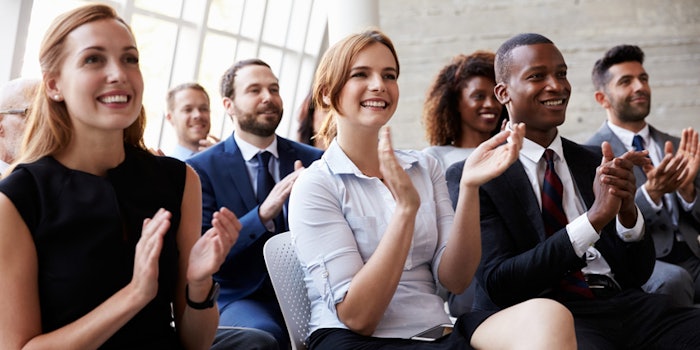 At the upcoming Luxe Pack Monaco, to be held on September 30-October 2, 2019, at the Grimaldi Forum in Monaco, event attendees will be given the opportunity to "stay at the forefront of packaging, digital solutions and formulations."
What to Expect at Luxe Pack Monaco 2019
1. Packaging Designer Ross Lovegrove
On Monday, September 30, at 2:30 pm, Lovegrove will discuss his portfolio of champagne, perfume and makeup packaging and the criteria of excellence in packaging design. Lovegrove will be joined by Juan Mantilla, design director for Kiko Cosmetics.
2. Going Green
This year's event will place a special focus on sustainable, eco-friendly packaging. Attendees will be able to participate in a dedicated program focused on green packaging.
On Tuesday, October 1, a sustainable development session will include two roundtables—"Packaging Innovation - What do brands currently expect from their suppliers?" and "Packaging Innovation - Is re-usable packaging the solution?"—hosted by Diana Verde Nieto, founder and director of Positive Luxury and Butterfly Mark. The roundtable sessions will take place at 3:30 pm and 4:15 pm, respectively.
The Luxe Pack In Green Awards will be awarded to "the exhibitors' best sustainable packaging innovations in the world and best responsible initiative." The awards ceremony will begin at 5:30 pm on October 1.
3. Middle East Spotlight
Experts and major players in the Middle East luxury market will share insights with event attendees on brands and consumers in the region. 
Beauty entrepreneur Joelle Mardinian, whose brand Joelle Paris offers skin and hair care lines, will participate in two conferences: "Joelle Paris- From Dream to Realization" and "Joelle Mardinian: Social Media Brand Activation in the Middle East." Mardinian will be interviewed by Christine K. Schott, president, American Influencer Association, and co-founder, The Beauty Influencers. The roundtable sessions will take place at 11:45 am and 3:30 pm, respectively.
A roundtable session, moderated by Elie Papiernik, CEO, centdegres, and Gaëlle Dore, managing director, centdegres Dubai, will discuss how oriental perfume is influencing global trends and how this is impacting the global consumer experience and the art of packaging. The roundtable will take place at 4 pm.
4. Luxe Pack Trends Observer
On Monday, September 30, at 11:30 am, Emma Chiu, innovation & creation director, The Innovation Group JWT, will share her analysis of packaging, design, colors, societal behaviors, consumer expectations and trends in the luxury sector. 
5. Smart Packaging
On Monday, September 30, at 1:30 pm, Jeb Gleason-Allured, editor in chief of Global Cosmetic Industry and Perfumer & Flavorist, will host a roundtable to discuss a selection of exhibitors' best smart packaging solutions. 
6. Packaging Personalization
On Tuesday, October 1, at 9:30 am, attendees can visit the Print and Brand Revolution Lab @ Luxe Pack.
The personalized printing laboratory will allow visitors to "print using a set of technologies to communicate differently, taking into account the personalization and variability of data, and to link physical packaging with digital technology."
Additionally, a roundtable session will be moderated by Enrico Barboglio, CEO, Stratego Group and Valentina Carnevali, brand revolution lab project manager, Stratego Group.
For the full program, please visit www.luxepack.com