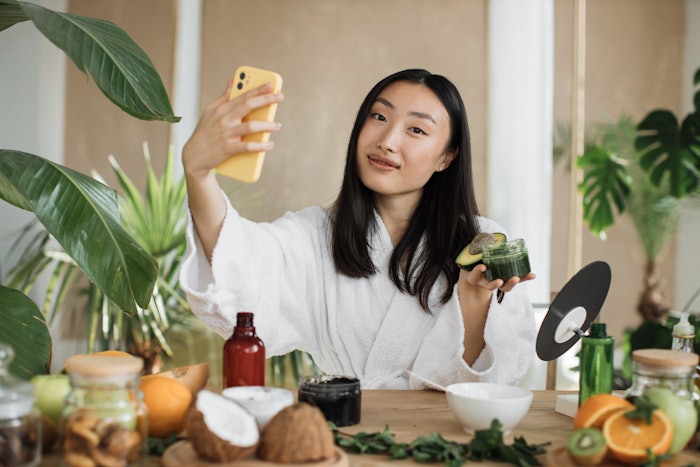 Spate recently listed skin cycling among its top 10 skin care trends of 2023. Popularized by dermatologist Whitney Bowe, MD, "the classic skin cycling routine consists of a four-night schedule. Night one is exfoliation, night two is for retinoids and nights three and four are recovery nights, where you focus on hydration and barrier repair. Once you finish the cycle, you repeat the process."
Having ascended over the last year, the concept continues to dominate TikTok feeds.
But how can brands implement the learnings from skin cycling's popularity in brand R&D and marketing innovation? Evonik's Alexandra Mozina and Eric Ginsburg, Ph.D. will offer some answers during their forthcoming Beauty Accelerate Virtual talk, "Skin Cycling."
Skin cycling is a simple alternating method whereby active ingredients are applied one night, the speakers explain. Skin is allowed to recover the next, promising to avoid over-exfoliation and irritation.
Such a method could guide self-educated consumers who might be using the wrong type of (or too many) products on their skin, as well as educate those new to skin care actives.
To attend the talk live or on-demand, register below.
>>>REGISTRATION IS NOW OPEN FOR LIVE/ON-DEMAND ACCESS.<<<
Attendee pricing is designed to be accessible for indie and major brands alike. Contact us for special group rate discounts.
About Our Experts
Alexandra Mozina is a results-driven technical marketing professional with a background in biological science and 4+ years of experience leading technical product training and pioneering high-impact B2B marketing campaigns that drive revenue. Alexandra has a Bachelor of Science in Cell/Molecular Biology with a minor in Chemistry from Appalachian State University. She joined Evonik as a regional marketing manager, part of the North America Sales System Solutions team. Alexandra supports regional marketing activities for the Active Ingredients Product Line.
Eric Ginsburg received his Ph.D. in Medicinal Chemistry from Virginia Commonwealth University in 2020. His graduate work was focused on determining the mechanism of action of platinum-based therapeutics. Upon graduation he started with Evonik as a process chemistry working in their Hopewell Virginia plant. During his time at the plant, Eric supported production by developing methods to help increase robustness of products, while minimizing reactor downtime. In December of 2021, Eric joined the Applied Innovation team, where his role is centered around the research and development of Active Ingredients.