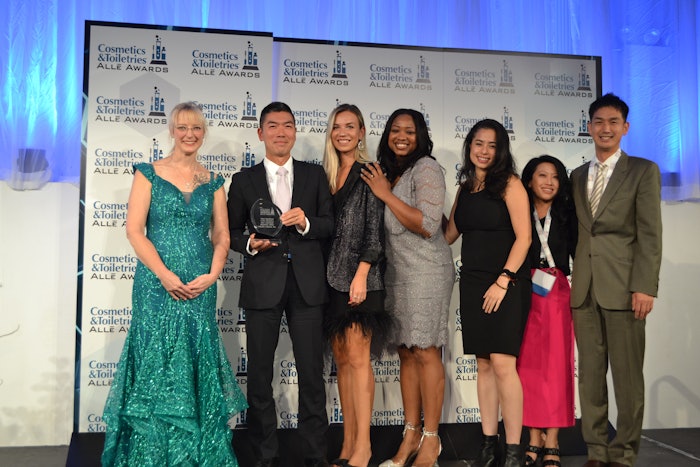 Congratulations to the winners of the 2022 Cosmetics & Toiletries (C&T) Allēs! The awards program brings behind-the-scenes ingenuity in cosmetics and personal care R&D into the spotlight.
As a quick explanation, the winners were chosen based on the highest total score given by our esteemed judges. Three judges rated each entry, and the same judges reviewed competing entries to ensure as much consistency as possible.
Entries were rated for their merits on sustainability, multifunctionality, novelty, claims support, utility, etc., on a scale from 1-10, and those ratings were totaled. Here are the 2022 winners—and what the judges had to say about them (select comments provided where available).
Active Ingredients
Most Significant 'Feel Good' Beauty Active: Myramaze-Essence, RAHN AG
"The sensocosmetics concept can open the door to a new market trend. The immediate reduction of stress hormones provided by a skin care active that also has and olfactory profile is very innovative. The in vivo efficacy evaluation has very interesting measurements like the hydration map."
Most Significant Anti-aging/Well Aging Active: Argireline Amplified Peptide, Lubrizol
"Strong in vitro and in vivo test data showcase the [ingredient's] multifunctional approach. Well-rounded green chemistry approach."
Most Significant Hair/Scalp Active: Radicare-Eco, RAHN AG
"This product has multifunctional benefits and a lot of supporting clinical data. Overall, great detailed technical information… seems like a beneficial ingredient for the hair and skin. The efficacy studies went into great detail and are impressive."
Most Significant Microbiome Active: Defensil-Pure, RAHN AG
"This is one of the best examples of solid scientific development of a postbiotic to date. Bravo! This also supports the hypothesis that postbiotics may be as effective or more effective than the respective probiotics."
Most Significant Skin/Body Care Active: Hydrachrysum, SEPPIC
"A great enhancement to [simply] using an unaltered active. The mechanism on lacunae is a novelty in the cosmetic industry. It is a very interesting concept that brings a new way for developing moisturizing products. The bio-inspiration by Everlasting [plant] biology is fantastic storytelling."
Most Significant Sun/Light Protection Active: Kleair, Solésence
"Good data to back up claims [in a] very difficult segment due to regulations ... It is significant [in that] the zinc particle prepared can fulfill the deficiency or disadvantages of the nanoparticle. … The sensorial profile of non-nano ZnO is fantastic because the aesthetics and transparency are much better when compared with traditional and nano ZnO."
Most Significant Toiletries/Hand/Oral Care Active: Alpin Heilmoor Extract, Premium Organic
"This is a very novel ingredient … you have done a great job validating what appears to be a very exciting development in oral hygiene. … The extract has very good claim substantiation protocols. Balancing the oral microbiome and preventing gingivitis growth is a new mechanism that fits the microbiome trend."
Base Ingredients
Most Significant 'Feel Good' Beauty Base Ingredient: Liponate Jojoba 20, Vantage Personal Care
"This material has a very interesting multifunctional profile. It is an emollient with application in skin care, sensitive skin and hair care. The claim substantiation is very well developed. … Strong evidence of multifunctionality … with properly designed studies and results. Impressive stability proven with the standard study."
Most Significant Color Cosmetics Base Ingredient: MiyoHaze White, Miyoshi America, Inc.
"This is truly a breakthrough ingredient considering how much TiO2 the industry uses. A very interesting new alternative replacement for titanium dioxide as a whitening agent, in light of [concerns over] TiO2 and companies wanting to move away from it … a very interesting alternative."
Most Significant Hair/Scalp Care Base Ingredient: Citropol H Green Cosmetics Polymer, P2 Science, Inc.
"[The] sustainable processing of the ingredient is interesting. … They have presented good sustainability and environmental responsibility data from the upcycled sourcing, and esthetic comparison to silicone."
Most Significant Skin/Body Care Base Ingredient: BioEstolide 250, Biosynthetic Technologies
"The product fits the trend for natural, environmentally responsible alternatives to petrochemicals and silicones. … The indication as an alternative to silicone will be well-received by the cosmetic industry.
… [This] ingredient has high oxidative stability, enhancing the shelf life … (vs. other naturally derived oils). Great option as a silicone replacement with UV protection and water resistance properties."
Most Significant Sun/Light Protection Base Ingredient: Solamaze Natural Film Former, Nouryon
"The benefits of the ingredient for water resistance are impressive. …[T]he depth of information regarding the development/synthesis of this ingredient highlights the sustainability profile and shows innovation being integrated in raw material development beyond the end application. This attention to the production process and transparency is an great example of what more ingredient suppliers should strive toward."
Claims Testing/Tool
Most Significant Claims Testing Method/Tool: Microbiome-friendly Test, Standard and Certification; Sequential Bio
"Of all the 'microbiome friendly' methodologies working to address both consumer and industry concerns about the impact of cosmetics on the microbiome, [this] is, in my opinion, the most quantitative and promising of the lot. … Multiple testing labs offer similar analysis … the main added value [here appears to be the] sampling approach, as shown by the ease of use and greater yield."
Digital Tech/App
Most Significant Digital Tech/App–Consumer User: AEDIT iOS App, Aedit
"Giving consumers the ability to quickly and easily visualize cosmetic procedures in advance would be incredibly helpful in managing expectations. … The concept of simulating cosmetic treatments like rhinoplasty, brow lift, etc., and instantly visualizing results before [performing] the procedure is brand new. This is a promising application that will open the door to new trends and concepts."
Most Significant Digital Tech/App–B2B User: Goldn, Goldn USA, LLC.
"A very useful tool for both marketing and new product development teams … [It] allows development departments to align their needs and facilitate innovation. … This is an important tool for small niche brands to get their product on the market. … The interface is engaging, with a nice layout. It is extremely competitive as free for cosmetic brands and should benefit … connection [to] make business."
Finished Formulas: Indie
Most Significant 'Feel Good' Beauty Formula–Indie: CleanO2 Soaps, Clean O2 Carbon Capture Technologies, Inc.
"Very interesting … should be [a good] fit with next-gen consumers [in terms of] eco/environmental trends [and the] … simplicity of the product. … Very interesting CO2-sequestering technology."
Most Significant Anti-aging/Well Aging Formula–Indie: Codex Labs Antu Brightening Serum, Codex Labs.
"Very impressive and detailed results [in terms of] … efficacy testing."
Most Significant Hair/Scalp Care Formula–Indie: Flourish Scalp Serum - Marula & Lavender, Raaka's World
"Interesting formulation. … The oils seem to be helpful for individuals with dry scalp."
Most Significant Microbiome-focused Formula–Indie: Sage and Ylang Microbiome Series: Gentle Face Cleanser, Beauty Essence and Soothe & Protect Moisturizer; Sage and Ylang Redefining Beauty
"I applaud your brand approach and engaging the consumer in the microbiome. Also, very creative formulation/customization with 'boosters.' … The efficacy tests are impressive and detailed."
Most Significant Nutricosmetic Formula–Indie: Premium Collagen Formulation with Velious Masking Technology, Tosla Nutricosmetics
"Addresses, directly, an inherent problem with [this] specific type of formula (nutricosmetics). [I] would be interested to see if the Velious technology has broader applications."
Most Significant Skin/Body Care Formula–Indie: Ruby Crystal Cleanser, Roccoco Botanicals
"I am a big fan of these oil-based cleanser formulations based on sucrose esters and this is no exception! Beautiful, elegant and sustainable formulation and packaging. Bravo! … A very well-formulated product. Attentive to sustainability and eco-friendliness. Good data."
Finished Formulas: Mass
Most Significant 'Feel Good' Beauty Formula–Mass: Good Chemistry Fragrance Collection, Good Chemistry
"A new approach to fragrance with a serious focus on the science and sustainability. What's not to love. I also appreciate the brand's commitment to educating their consumers and also supporting STEAM education! …The packaging and concepts of fragrances in multi-level marketing [are] unique. … Safe and stable product based on essential oils. Important for well-being and has a long-term impact."
Most Significant Anti-aging/Well Aging Formula–Mass: Abeytu' Naturals Sublingual Anti Aging, Abeytu' Naturals By Shaman Productions
"…The product has an innovative proposal since it could treat aging from the inside out and help … topical skin care treatments."
Most Significant Color Cosmetics Formula–Mass: Irresistible Satin Lip Cream, Univar Solutions
"Long-wear properties with comfortable wear for lip color are a much sought-after attributes especially in our pandemic/post pandemic times. I believe this formula has both and I was impressed with the richness of color in the video provided. … The formulation appears to be a unique water-in-silicone based emulsion system."
Most Significant Hair/Scalp Care Formula–Mass: The Ordinary–Natural Moisturizing Factors + HA for Scalp, DECIEM
"I gave Deciem a higher score for significance—I think their pro-science marketing … will have a long term impact in the cosmetics industry."
Most Significant Microbiome-focused Formula–Mass: SOS Recovery Serum with NeuroBiome Technology, Winnox Cosmeceutics Sdn Bhd, an R&D Entity of Wipro
"This brand has a good amount of available clinical and safety substantiation … Good positioning of the product backed by scientific research. … Very impressed with the microencapsulation technology and the stabilization of vulnerable compounds like boswellic acid. ECVs on the order of this size with the appropriate surface charge should improve delivery of an entire range of actives. Bravo!"
Most Significant Skin/Body Care Formula–Mass: B3 Acne Solution, Shiny Brands Group Co., Ltd.
"This brand had a good amount of claims substantiation to support their efficacy claims. … I like the anhydrous story from stability perspective … Efficacy and stability testing data is sound. … Interesting and creative acne formulation appears to deliver significantly superior results than would be expected from salicylic acid alone. … [T]his formulation looks very promising."
Most Significant Sun/Light Protection Formula–Mass: Cold Process Mineral SPF 50+, SNF Personal Care
"It's great that the formula is cold processed, [from a] sustainability [standpoint]. …This formula does represent a good alternative to chemical SPF products in a stable and reliable form. The use of Natursol* EMI 132 as a unique stabilizing ingredient would lend a considerable amount of stability to traditionally unstable physical sunblocks. … Congratulations on an incremental but significant advance in cosmetic emulsion formulation!"
*Judges declared no conflicts of interest with the named ingredient
Finished Formulas: Prestige
Most Significant Anti-aging/Well Aging Formula–Prestige: derma-Rx Max-C, dermaRx Laboratories Pte., Ltd.
"The claims substantiation is relatively robust and the novelty of the delivery and actives are a positive. … This is a multifunctional product formulated with the most stable form of ascorbic acid and kakadu plum extract, the world's highest source of vitamin C."
Most Significant Nutricosmetics Formula–Prestige: Beauty Focus Collagen+, NuSkin
"I found the carotenoid measurement most interesting as a more objective analysis of the skin. … The presented product appears to demonstrate appropriate and significant results."
Most Significant Color Cosmetics Formula–Prestige: Magnetude Magnetic Eyeliner, Lashliner, Inc.
"Interesting application for the ferromagnetic properties of black iron oxide. ... New product with a new concept in terms of a magnetic eyeliner."
Most Significant Hair/Scalp Care Formula–Prestige: Nutrafol's Growth Activator, Nutrafol
"The use of natural ingredients in this product was a plus and the clean ingredient deck did resonate well. … Products for scalp care are very important and the proposed product applied to the scalp can help boost cell renewal and obtain thicker-looking and stronger hair."
Most Significant Microbiome-focused Formula–Prestige: Resurrection Bio-Luminous Dewy Essence, Orpheus Skin Essence
"The level of detail provided around the testing to demonstrate benefits shows great potential efficacy. … The spray is a unique product format with easy application for a product with this level of efficacy. Adequate data supports the claims."
Most Significant Skin/Body Care Formula–Prestige: Centella Asiatica Cica Multibalm, Cosmax Inc.
"I liked the stick form for the product, which is why I scored it higher. … A waterless stick like this will help sustainability and overall packaging and product waste over time, which is a plus. … The product has an innovative active ingredient—a skin-friendly oil developed through fermentation technology—and high concentrations of active ingredients effective in soothing irritated skin extracted from Centella asiatica plant."