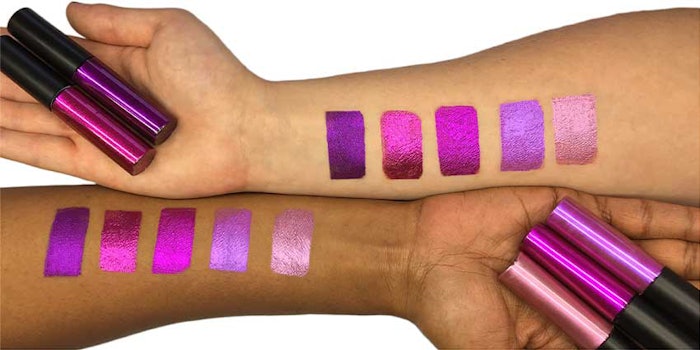 BASF
Pink is an attitude for BASF with the launch of its latest pigment: a bold, metallic-like pink shade for use in vegan and clean beauty.
Related: Rambutan-based Bioactives Star in BASF's in-cosmetics Global Lineup
Chione Electric Fuchsia SF90D (INCI: Not Available) is buildable, has a high chroma and is carmine-free. Formulators can combine it with traditional cosmetic colorants and effect pigments to create products in various formats and systems, including eyeshadow, eyeliner and lip gloss. 
The pigment was created by precisely controlling multiple metal oxide layers, resulting "in a pigment with superior coverage and chroma, in a unique blue red color space," according to Gabe Uzunian, head, Development and Expert Services, Cosmetic Effect Pigments, BASF. 
"This patent-pending technology opens the boundaries in the red color space using an inorganic approach with all the associated stability benefits," added Uzunian.
Reviving Pink
Chione Electric Fuchsia is part of BASF's "Pink's Not Dead!" marketing campaign; the bold shade is meant to evoke images of the 1980s, with the decade's "wild textural mixes, shrill neon colors and electrical synth waves." Specifically, the new pigment is featured in the campaign's "Electric Wave" subset, highlighting the rebellious nature of pink.
The pigment will be featured at in-cosmetics Global, to be held April 2-4, 2019, in Paris, where BASF can be visited a booth B10. It will also be presented at NYSCC Suppliers' Day, to be held May 7-8, 2019, in New York City.