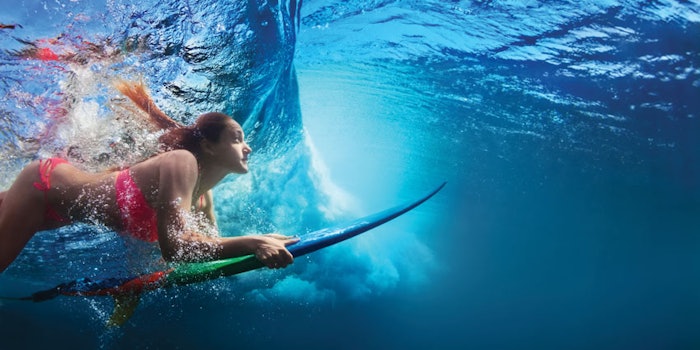 The impact of our collective actions on the planet has raised urgent questions for beauty bands globally. Attention is turning toward marine life and coral reefs, which are believed to be under threat from waste products such as microbeads, triclosan, plastics and ingredients once thought to be eco-safe that are flooding the oceansa.
Stacey Fraser, co-founder of New Zealand beauty consultancy, Nature's Blueprint, comments, "Ocean safe is now an everyday thought and consideration in everything we do, especially with our new activist Gen Z consumer. Our oceans are in crisis and we need to act now."
Fraser notes that ocean-safe formulations are becoming another important factor to product and brand briefs and applies to every element, including sourcing, ingredients, formulation, packaging, ethos, marketing messaging and support for clean ocean causes. (Examples include Sustainable Coastlines, a New Zealand charity that enables people to look after the coastlines and waterways through clean-up events, educational programs, public awareness campaigns and riparian planting projects.)
Awareness Leads to Ingredient Bans
Microplastics, which comprise tiny solid plastic particles or fibers, often start as larger pieces of plastic debris before breaking down over time. Plastic microbeads, a type of microplastic, have long been used as an exfoliant in rinse-off cosmetics but are being phased out in a growing number of countries, including the United States, Canada, France, United Kingdom, Sweden and Taiwan.
The Cosmetic, Toiletry and Perfumery Association (CTPA), based in the United Kingdom, believes this is a step in the right direction for marine plastic litter, but notes on its websiteb, "Only rinse-off cleansing and exfoliating products have been associated with marine litter." It adds, "Plastic microbeads from cosmetic and personal care products provide a very minor contribution to the marine plastic litter."
The CTPA concludes, "Government and other industries will need to look to address the major sources of plastic pollution if we are to have a wider impact on this pressing environmental challenge."
Elsewhere, triclosan is widely used in cosmetic products such as bodywash, soaps and hand sanitizers for its anti-bacterial and anti-fungal properties but has been banned and restricted in several countries, including constraints under EU cosmetic regulations, because of its reported toxic effect on environmental and human healthc.
Meanwhile, recent research suggests that mineral-based natural sunscreen ingredients such as zinc and titanium are contributing the bleaching of coral.
"The best alternative," advises Fraser, "is to wear a full Lycra body suit."
However, in reality, more thorough appraisal is required to provide certainty and avoid underuse of sunscreens, thereby increasing incidences of sun damage and cancersde.
Ocean-safe Claims Spread Beyond Sunscreen
Concerns about cosmetics that wash off when people swim in the sea has led to the emergence of "ocean safe" or "reef safe" claims across categories.
"Initially, we were seeing these claims in sunscreen, but are starting to see them appear in skin care, soap, bath products and hair care," says Andrew McDougall, associate director, beauty and personal care, Mintel.
He cites the following examples from Mintel's GNPD survey:
Pacifica Coconut Pro Strong & Long Creamy Oil mask, a vegan hair treatment to protect hair color that is free from petroleum, parabens, sulfates and phthalates and claims to be "coral reef-safe" on the pack.
Alphanova Sun Medium Protection SPF15 sun milk has a sea- and reef-safe claim front-and-center on the pack, accompanied by an image. The product cites titanium as safe and zinc as potentially harmful to the aquatic environment.
Australian company Trilogy Natural Skincare has an ethical range formulated with rosehip seed powder, which is touted as an "ocean-safe" alternative to microbeads. The ingredient is included in the brand's Exfoliating Body Balm. 
For the full article, check out Global Cosmetic Industry's January digital magazine. 
Footnotes:
a"Can We Create Sunscreen That Protects Both Humans and Coral Reefs?" www.smithsonianmag.com/science/scientists-are-unraveling-new-dangers-sunscreen-coral-reefs-180969627; "Occurrence and distribution of UV-filters and other anthropogenic contaminants in coastal surface water, sediment, and coral tissue from Hawaii," www.ncbi.nlm.nih.gov/pubmed/30904653
bwww.ctpa.org.uk/news/key-elements-of-ctpas-response-to-the-uk-government-public-consultation-on-plastic-microbeads-4061
c"Triclosan Could Risk Bone Health, Research Suggests," www.cosmeticsandtoiletries.com/research/biology/Triclosan-Could-Risk-Bone-Health-Research-Suggests-512127081.html
d"Examine all available evidence before making decisions on sunscreen ingredient bans," www.ncbi.nlm.nih.gov/pubmed/31004897
e"Impact of inorganic UV filters contained in sunscreen products on tropical stony corals (Acropora spp.)," www.ncbi.nlm.nih.gov/pubmed/29801220