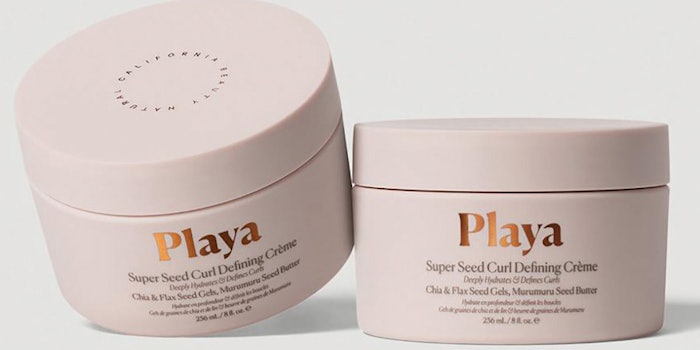 Each element of a beauty product's packaging is vital to bringing the brand's image to life. Manufacturers recently shared their latest partnerships, highlighting the power of packaging components and design.
Tube Packaging
Eleanor Bunting, marketing and communications manager, International Cosmetic Suppliers, says, "The growth of hair care has benefited from the recent wellness boom and sustainable mindset. Many consumers have realized the past year that beauty routines and treatments are doable from the comfort of their own home and that the self-care routine of skin care does not stop at their face. Consumers are now seeking hair care products focused on scalp and hair health that bring the same level of naturalness and efficacy as their face-focused counterparts. Like skin care and color cosmetic packaging, hair care packaging trends are focused on minimal, clean and sustainable packaging shapes and materials. ICS recently worked with the clean beauty hair care brand Playa to develop their Super Seed Curl Defining Crème. The naturally derived ingredients of chia and flax seed gels and murumuru seed butter is packaged in our ICS 100% monomaterial, recyclable PP jar, helping make 'reduce, reuse, recycle' a whole lot easier. The minimal, thick-wall flushfit design of the PP jar adds a premium tactile feel, and the wide mouth of the jar allows the consumer to easily scoop out the product and apply the moisturizing butter from hair roots to ends. Playa's aesthetic is a leading example of packaging trends for hair care with a primarily text-based design for product transparency, and clean, simple silhouettes."
Melanie Gaudun, business development manager, Viva Healthcare Packaging, says, "Brand with a Heart, who built their hair care range around the magical benefits of the maqui berry, has added the tube as a portable option to their OMG Smooth bottle. The slender polypropylene tube features a vibrant pink ombré and matte white flip-top cap to match the lineup. Thoughtfully made with a maximum of 10 ingredients, Native's Almond & Shea Butter Strengthening Hair Mask launched as a part of a clean hair care line this year at Target. The 6 oz tube was added as a convenient size option that offers a monomaterial design with the signature clean Native look. Viva manufactures unique, injection-molded, monomaterial tubes and closures, that are decorated with in-mold label technology and comply with the APR Tube Design Guide for Recyclability."
For the full article, check out Global Cosmetic Industry's October 2021 digital magazine.