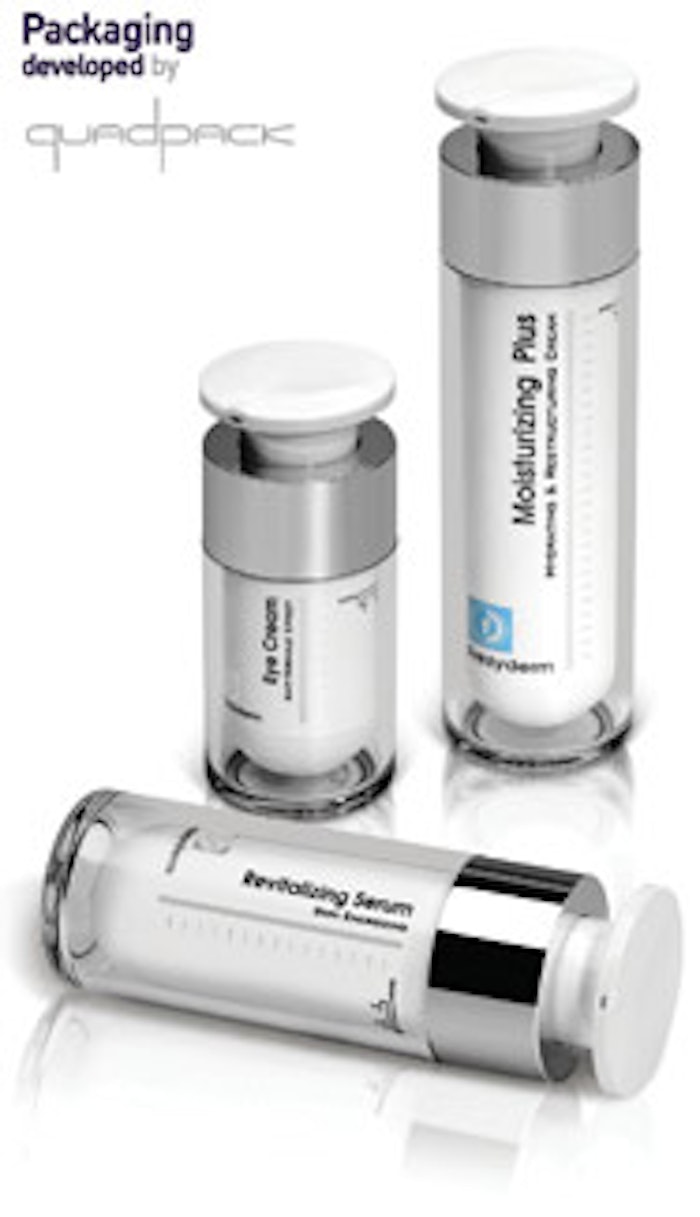 In launching a new skin care line, Greek company Frezyderm sought packaging that reflected the line's clinical positioning with a medical look and feel while also being eye-catching on the shelf.
Frezyderm collaborated with Quadpack in the use of an airless packaging product from Yonwoo, working together to develop SKU requirements, answer formulation interaction questions, fulfill brand creativity and identity needs, and maintain a successful bottom line.
In addition to supporting the brand's identity, aesthetics and position, choosing the right packaging also helps boost sales.
Companies often invest heavily in the formulation aspect of a new product. However, to arrive at the finished product, it takes more than laboratory resources. The container has a vital role to play too, and not just in terms of enclosure but also in terms of protection, actuation, consumer experience and brand alignment.
In fact, a package's appearance can underline the efficacy of a formula, as Greek pharmaceutical company Frezyderm discovered when it developed its new premium range of OTC skin care treatments. Its search for the right pack led it to Yonwoo's Show Bottle, developed by the Turkish office of international packaging provider Quadpack.
"Quadpack provided a solution that combines Yonwoo's airless protection with a test tube shape that inspires consumer confidence," says Efthimios A. Anastasiou, managing director of Frezyderm. "The packs not only protect our advanced formula, they also look clinically efficient, which helps the products' performance on the market."
Science Backed Cosmetics
Founded in 1987, Frezyderm provides dermatological cosmetic products for both adults and children. Its products are exclusively sold in pharmacies in Europe and the Middle East, often on doctors' recommendations, and its primary product lines include sun care, acne and anti-aging products, along with products to address atopic dermatitis, all aimed at making a difference in people's everyday lives.
The company has its own factory, and its products are supported by studies in Greek and international university clinics, as well as vetted according to pharmaceutical standards. Additionally, Frezyderm's R&D operations keep up a continuous dialogue with dermatologists and pediatricians, and as part of this dialogue, Frezyderm holds regular seminars for chemists on dermatological cosmetics.
Brand-aware Packaging
Frezyderm's brand is one that concentrates on clinical action. Consumers know its products are targeted to go beyond beauty in order to try to address specific dermatological needs. So when Frezyderm developed its new range of skin care products, the company had absolute conviction that the packages needed to complement the formula in such a way that consumers instantly recognized them as clinically efficient.
After a considerable investment of time and resources in formulating the products, Frezyderm needed to ensure the packaging matched this effort. The first package requirement was that it had to be compatible with the products. It also needed to be capable of dispensing high-viscosity formulas, and it had to have shelf impact. Essentially, Frezyderm wanted the products to be unique in-store when compared to the competition.
"We regard the pack as part of the brand," says Anastasiou. "We have carefully built up the Frezyderm brand over 25 years, and we make sure this is reflected in everything that is transmitted by the company, including the packs that contain our products. That is why we spent a lot of time selecting both the packaging provider, as well as the packs themselves."
Airless Protection
Frezyderm's packaging market research led it to Quadpack's Turkish office. Learning of the composition of the skin care range's formulas and Frezyderm's objectives, Quadpack recommended the Yonwoo airless technology as the solution, feeling this packaging fit Frezyderm's criteria on multiple levels.
Yonwoo's patented airless packs seal the bulk formula in an airtight environment, safeguarding it from external contamination. This helps ensure a longer shelf life, protects the formula's integrity and makes it capable of dispensing high-viscosity formulas. Airless actuation means the pack can be used from any angle for the comfort of the consumer, and the packs also help to ensure correct dosage with each actuation—the product is dispensed without waste, and the remaining bulk of the formulation is automatically drawn up.
As an added benefit, airless technology is also more environmentally friendly, requiring no chemicals, gases or aerosols to dispense the product.
Medical Look and Feel
With a wide range of shapes, sizes and pumps to choose from, Yonwoo's portfolio offers several options that could be customized to meet brand requirements. To figure out the best strategy for the new skin care line, Frezyderm team members visited Quadpack's showroom in Istanbul for a firsthand look at the options.
"We wanted a medical look and feel to the packs that conveyed the formula's dermatological action. However, it needed to stand out on pharmacy shelves as well, so we looked for something eye-catching that complemented the elegant lines of our brand," explains Anastasiou.
Frezyderm settled on Yonwoo's airless Show Bottle, feeling its technical performance and clean, clinical appearance fulfilled the needs for its new skin care offerings. The selected pack features a test tube shape, with a spherical bottom showcased through a transparent outer base. With an inner bottle and actuator made of recyclable polypropylene, it also provides compatibility with a wide range of products. 
Brand New Range
Having selected the actual pack, the packaging development process was ready to start. First, a comprehensive brief was jointly prepared, detailing every aspect of the formula, the brand, technical and creative requirements, and the bottom-line objective of the new product range. A schedule was then drawn up, with target dates for each phase in the process, right up to the launch. 
Frezyderm took samples of the packs for compatibility testing at its own laboratory, and, once approved, Quadpack developed all three packs in the Show Bottle range for each of the 11 skin care products, which target consumers in the 20–45 age group. The 15-mL Show Bottle is used to contain Frezyderm's Anti-Wrinkle Eye Cream and Eye Balm, the 30-mL pack is used for the Revitalising Serum, and the tall 50-mL packs contain various moisturizing, sun protection and anti-aging products.
The packs were customized with a metallized ABS collar, a white PP inner bottle, a clear SAN outer collar, and a white PP actuator. These were then delivered to Frezyderm for filling and labeling. With production and delivery times of less than 12 weeks, the process went smoothly and the deadline was achieved, meaning the new products were able to hit the shelves of more than 2,500 pharmacies in Greece in early 2011.
Shelf Impact
The new skin care range has been quite successful, and in fact, Frezyderm has had to put in two repeat orders with Quadpack since the initial launch. In addition, it has changed the packaging of its Active Block SPF25 Anti-aging Photoprotective Cream over to the Show Bottle as well, taking advantage of the Show Bottle's technical specifications. On that product, the ABS collar is metallized gold for a bright, sunny look, and this new pack will be launched into market in summer 2012.
The Show Bottle packs have helped contribute to the success of the range, and Frezyderm has found consumer reaction to be enthusiastic. Market feedback shows consumers consider the products and packaging practical and original. This has led Frezyderm's export department to now work on planning a strategy to launch and promote its anti-aging line abroad.
Of the project, Anastasiou concludes, "A pack is so much more than a simple container, and Quadpack demonstrated just how much it can support a product. In our case, the innovative aesthetics of the Show Bottle certainly gives additional advantages to our brand and has even boosted sales." 
Tim Eaves, at 23, was appointed sales manager for Decorpart (Rockware group), managing £10 million in sales and accounts for customers such as Aptar, Rexam and Alcan. In 1991, he moved to Barcelona where he became Federico Ferrer sales director. In 2004, three years after creating Belcos Packaging, he co-founded the Quadpack Group, developing and consolidating Quadpack's presence in the Spanish, Italian and German markets.