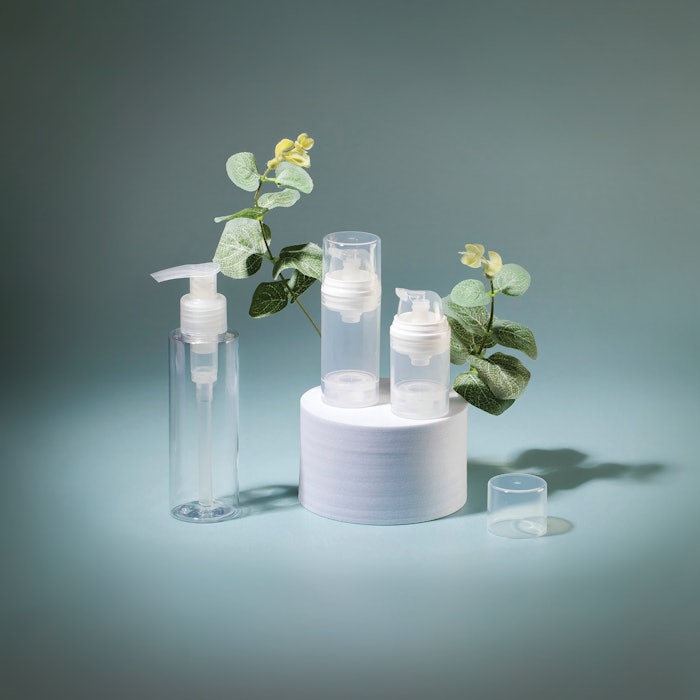 Recent NIQ data has found that 69% of consumers believe sustainability has become more important to them over the last two years. However, 25% say companies make it difficult to make sustainable choices. Sustainable packaging represents one critical way to allow shoppers to make decisions based on their values. A recent survey of the latest innovations on the market reveals a wide array of options available to brands.
Monomaterial: from Skin Care to Makeup
Monomaterial designs allow brands to simplify recycling for consumers while rendering color matching more consistent for brands. Suppliers are responding to the demand with a range of options across segments.
For example, ICS' Mono Material PP Pump is available in two neck sizes (24/410 and 28/410) and can be matched with bottles of various fill sizes and shapes. The pumps are reportedly ideal for skin care, body care and hair care formulations. (ICS also offers Metal Free Airless Bottles available in 15 ml, 30 ml and 50 ml variants and with TPE or silicon springs.) The company also offers monomaterial PP pencils, PP refillable jars and aluminum lipsticks, the latter available in standard 12.7 mmD cup and slimline 11.1 mmD cup. Both variants are available with a flat and slant A-shell.
Eliminating Secondary Packaging
Some products may benefit from the elimination of secondary packaging. In addition to the use of fewer materials, which has both cost and sustainability benefits, brands without secondary packaging may find they have stronger product visibility on-shelf, while allowing shoppers to see what they're actually paying for. Epopack's PET heavy wall packaging is designed to allow brands the product durability they need while allowing brands to save on space, materials and cost, per the supplier.
For the full article, check out Global Cosmetic Industry's May 2023 digital magazine