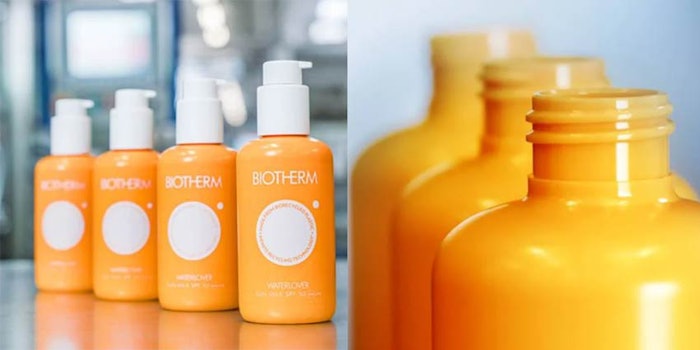 L'Oréal's plant in Caudry, France has manufactured the first plastic cosmetic bottle comprising 100% recycled polyethylene terephthalate (PET) produced using Carbios' enzymatic technology. Biotherm will be the first brand to feature the bottles, which will debut on the market in 2025.
As Global Cosmetic Industry reported last year, Carbios' novel enzyme technology can biologically depolymerize PET plastic waste, which can be efficiently processed into new bottles. Per the company, the process "has the advantage of being suitable for all types of PET—clear, colored, opaque and multilayer—and making these plastics infinitely recyclable."
The enzymatic recycling partnership is part of a wider initiative at L'Oréal to:
render 100% of its plastic packaging refillable, reusable, recyclable or compostable by 2025;
make 100% of its plastic packaging derived from recycled or bisourced materials, thereby foregoing use of virgin plastics of fossil origin, by 2030;
and ensure that all ingredients used in its formulas and all biosourced materials are traceable and come from sustainable sources by 2030.
"Biotherm is a pioneer in eco-responsible cosmetics and has put sustainable packaging and waste reduction at the center of its strategy," said Giulio Bergamaschi, global brand president, Biotherm. "We are delighted to be the first beauty brand to realize a completely recycled bottle using plastic from Carbios' disruptive technology."
"We have been working with Carbios since 2017 to develop this first bottle made from PET derived from enzymatic recycling technology, an alternative to mechanical recycling," said Jacques Playe, packaging and development director, L'Oréal. "We are pleased to announce today the feasibility of these bottles in a pilot phase and are delighted to be in a position to create the packaging of the future with our partners. This is a promising innovation for the years to come that demonstrates our commitment to bring to market more environmentally friendly packaging and which is part of a circularity initiative begun more than 15 years ago."