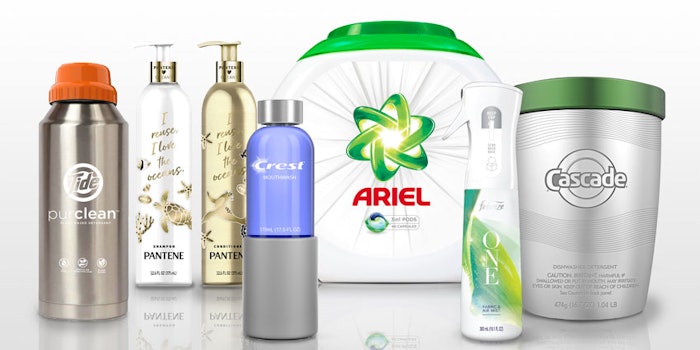 During the World Economic Forum Annual Meeting in Davos, Switzerland, The Procter & Gamble Company (P&G) took the opportunity to introduce its reusable, refillable packaging alongside its new partnership with TerraCycle's Loop system. 
Eleven brands, including Pantene, Tide, Cascade, Crest, Ariel, Febreeze, Oral-B, Gillette, Gillette Venus, Pampers and Always, will be available in Loop. The circular e-commerce platform, meant to collect, clean, refill and reuse packaging, will be tested in Paris and New York in mid-2019. 
How Loop Works
Shop: The new, waste-free packaging can be purchased on the Loop website or Loop partner retailer's websites.
Receive: Products are delivered in Loop's shipping tote that eliminates the need for single-use shipping materials like cardboard boxes.
Enjoy: Consumers experience the products while eliminating the idea of throw-away packaging waste.
Pick-up: When a product is finished, consumers can place the empty package into one of the Loop Totes. Loop will pick-up directly from their home.
Clean: Scientist-developed custom cleaning technologies are utilized so that each product may be safely reused.
Refill, Recycle, Reuse: Loop will replenish products as needed and return the refilled shipping totes to the consumer. Products such as diapers, pads, razors or brush parts, they will be recovered to be reused or recycled.
P&G's Beauty and Personal Care Brands Involved with Loop
Pantene: The hair care brand will introduce a bottle made with lightweight, durable aluminum for its shampoo and conditioner.
Crest: The oral care brand will introduce its Crest Platinum mouthwash, available in a sustainable, refillable glass bottle.
Oral-B: The oral care brand will test circular solutions for both its electric rechargeable and manual toothbrushes, Oral-B CLIC. The Loop platform will recycle used brush heads for both manual and electrical brushes.
GilletteTM and VenusTM: The shaving brands will introduce travel packs as durable packaging that the consumer will keep in addition to the handle. The used parts and blades from these grooming products will be collected from consumers for further recycling by TerraCycle.
TerraCycle CEO, Tom Szaky, said, "Loop aims to not just eliminate the idea of packaging waste but greatly improve the product experience and the convenience in how we shop. Through Loop, consumers will be able to responsibly consume products in specially-designed durable, reusable or fully recyclable packaging. Through the power and reach of trusted brands such as those of P&G we will be able to change consumers' habits and achieve the scale required for the model to achieve its objectives."