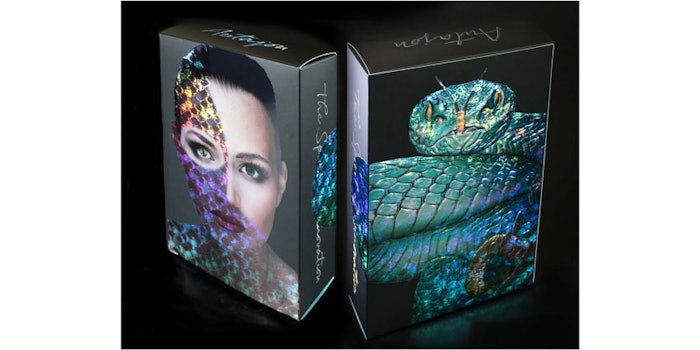 At the annual meeting of the Association of International Metallizers Coaters, and Laminators (AIMCAL), Hazen Paper was awarded "Product of the Year," for the second year in a row.
Dubben by Hazen as "beauty and the beast" packaging, the winning entry was a folding carton titled "The Spirit of Innovation" for prestige luxury box maker Autajon Packaging USA. The pack featured a three-dimensional jewel-toned snake and a female model whose face underwent a reptilian transformation when the box was tilted back and forth. 
According to Hazen, the carton was made with custom color-motion holography, embossed with a snakeskin pattern and finished with a soft-touch coating. The inside of the box features a sea-green coating meant to contrast the black exterior.
In addition to winning "Product of the Year," Hazen was awarded a "Product Excellence" award for Benefit Cosmetics' Hoola Quickie Contour Stick. The packaging featured silver Ultracure acrylic-coated metalized polyester laminated to paperboard. The pack was embossed as well as printed in transparent and opaque colors.