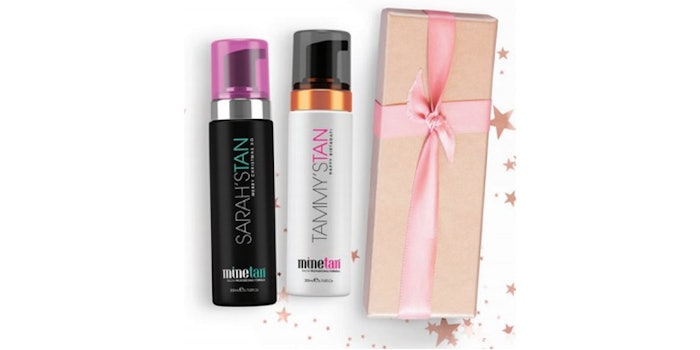 Self-tanning brand MineTan now offers its customers a personalized tanning experience with custom-made packaging. 
According to the brand, consumers can create custom packaging for any MineTan product in five easy steps.
Choose a self-tan foam: Olive, Violet, Dark Ash, Caramel, Mink, Blue Black, Workout Ready, Coconut Water, Luxe-foamed Oil Dark, My Moroccan, Invisible Color, Absolute X20, Absolute X40, Absolute X60, Coconut Water Everyday Glow, Violet Everyday Glow, Workout Ready Gradual and Luxe Everyday Moisturizer.
Choose a bottle color: White or Black.
Choose a pump color: White, Black, Silver, Bronze and Gold. 
Choose a cap color: Green, Violet, Dark Ash, Caramel, Orange, Blue, Pink, Clear, Mink and Dark Blue.
Add a custom text (name and subhead) and color: Violet, Pink, Blue, Orange, Caramel, Aqua Green, Black, Grey, Mink and Dark Blue.