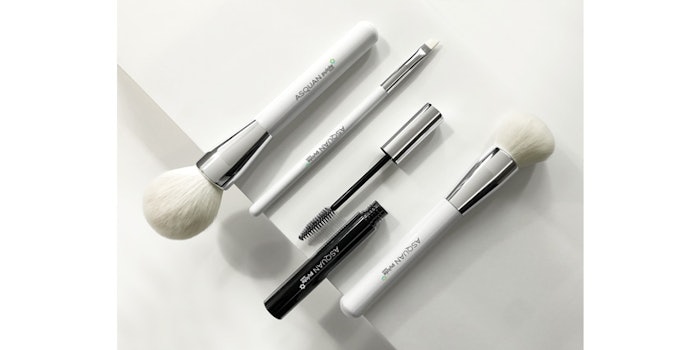 Pylote and Asquan Group have partnered to provide "innovative, cleaner, safer and greener" makeup brushes and mascara applicators to the U.S. market. 
The former specializes in cleantech industrial mineral and ceramic chemistry while the latter provides beauty solutions. 
According to the companies, "The breakthrough innovation provides natural bacterial and viral contamination protection, giving makeup brushes and beauty accessories an unprecedented level of safety and hygiene as yet, unseen in the market. The addition of patented Pylote technology automatically extends the shelf life of the product. However, more importantly, brushes and other tools would not require typical maintenance and disinfecting during their entire period of use, which brings tremendous benefit and peace of mind to the consumer while reducing the ecological footprint."
Independent lab tests have reportedly found that the Pylote technology maintains a high-level of microbial hygiene against virulent antibiotic-resistant bacteria such as those responsible for herpes or for conjunctivitis. The technology also helps to combat cross-contamination between consumers. 
Loïc Marchin, CEO of Pylote, "I'm delighted about this agreement with Asquan following a very enthusiastic process of qualification with both of our teams. The combination of our respective expertise is truly a leap forward in providing fully operational, responsible, cleaner and safer solutions, with an immediate impact of hygiene, security and comfort for today's exacting consumers. It reinforces our presence within the cosmetic market, especially in the US, by making innovative beauty products cleaner, safer and greener for consumers. This new step forward is the concrete expression of our Boost 2021 program aimed at significantly increasing our sales in the next two years."
Henri Tinchant, president of Asquan, added, "I am equally thrilled to be announcing this pivotal agreement with Pylote and look forward to kicking off the first projects immediately. Our strategy here at Asquan Group is to develop fully effective, holistic innovation based on delivering a robust benefit to the end-user. By partnering with recognized experts in their field, we can guarantee our clients cutting edge and proven technology on a fast to market time scale. The sustainable benefits will be increasingly important to our customers and they too, tie in with our own 2021 directives towards being a more eco-aware organization."