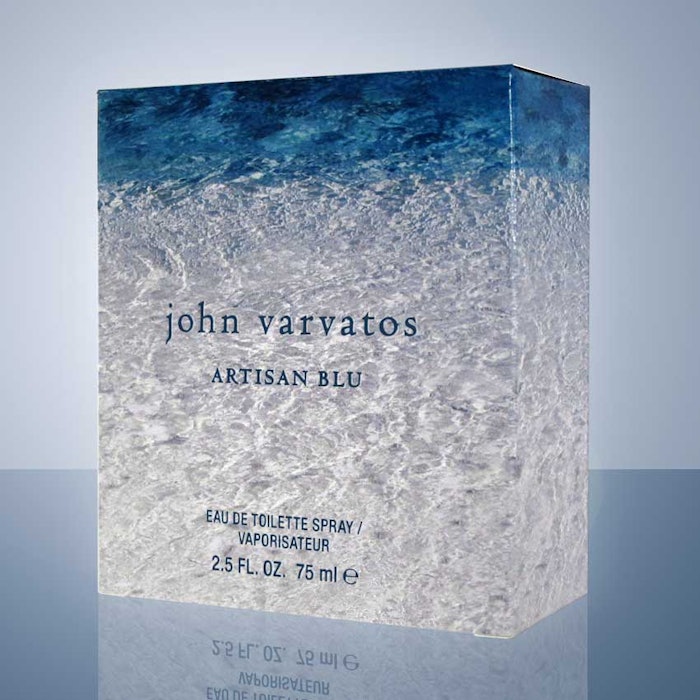 Due to an experienced panel of packaging professionals, industry experts and professors, Diamond Packaging hauled in three excellence awards at the 73rd annual Paperboard Packaging Competition. Each excellence award was presented for Elizabeth Arden's John Varvatos Artisan Blu folding carton, L'Oreal USA's Matrix Oil Wonders promotional packaging and for its Diamond Packaging's 2016 calendar.
Elizabeth Arden's John Varvatos Artisan Blu Folding Carton
This packaging used a four color printing process, using Clearwater Paper Candesce in order to provide the packaging with a sheer, glossy coat. The pattern uses UV matte and UV gloss spotting to accentuate the water impressions imprinted throughout. The printing is made to help the aesthetics of the packaging look natural, playing with a shimmering effect that could be seen on a Mediterranean beach.
L'Oreal USA's Matrix Oil Wonders Promotional Packaging
This packaging used low-density paperboard with dense black inks, a four color process and opaque whites to promote a stark contrast. The gold foil that surrounds the die cut windows and the stamped dots create dimension and visual intrigue. This packaging utilized the KapStone Kraftpak in order to promote the natural aesthetics of the ancient world rituals.
Diamond Packaging's 2016 Calendar 
This packaging marked the company's 25th anniversary, promoting a grandfather clock theme with perfectly balanced inner mechanisms. This is meant to represent the collaborative and precise nature of Diamond's work. The calendar used a four color process along with the Clearwater Paper Candesce, UV matte coating and UV gloss spot coating.
The header of the calendar is a debossed woodgrain pattern along with a clock face printed with UV gloss spot coating. This gives the calendar a depth and texture that is also incorporated in the chimes to make the clock appear more realistic. The foil accents used throughout the calendar help authenticate it while also showcasing its decorative strengths.