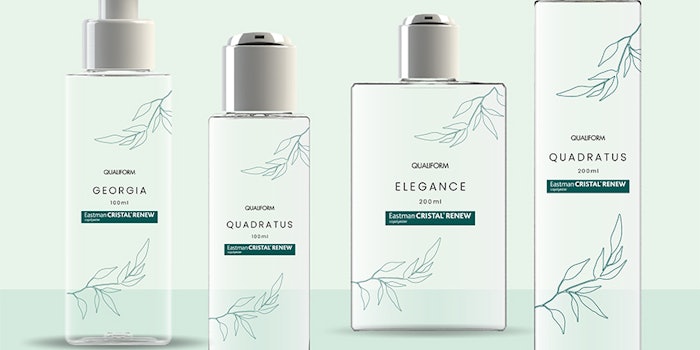 Qualiform, a luxury cosmetic packaging producer, is the first to market a line of bottles created from Eastman Cristal Renew copolyester. 
Related: Sustainable, Clean & Conscious Beauty: the Future
Cristal Renew, manufactured by Eastman, is created from certified recycled content and is part of a range of sustainable resins that is offered to the cosmetic market. This is made possible by Eastman's circular recycling technology. 
"We were looking for a sustainability solution that doesn't compromise on performance and aesthetics," said Stéphane Perrollier, Qualiform CEO. "When Eastman announced its Renew offerings, we were interested right away. Using landfill-bound waste to create such beautiful packaging was very appealing. This really is game-changing technology."
Qualiform will be using bottles made from Cristal Renew EB062-50 and EN076-50 for its sustainable luxury line. Both bottles have 50% certified recycled content.
Qualiform offers the option of Cristal Renew for all standard and customized PET or PETG bottles. Samples of standard bottles, including Georgia 100 ml, Quadratus 100 ml and Elegance 200 ml, are available now.
"We are very excited to offer cosmetic packages to the market with such high levels of certified* recycled content and to meet brands' sustainability needs today," said Perrollier. "Qualiform has a long relationship with Eastman and experience with their products. Since Cristal Renew is indistinguishable in performance and aesthetics from Eastman's heritage products, no retooling or requalification was necessary, making this an easy switch."
Eastman Renew resins are International Sustainability & Carbon Certification (ISCC) certified and produces products with ISCC-certified recycled content by mass balance allocation. 
"We decided to get ISCC certified earlier this year because we and the brands who are our customers believe in this solution and the transparency it provides through the certification," said Perrollier. "We found the certification process to be clear and easy to complete due to our existing traceability system and have appreciated the support ISCC provides."
*Made with certified recycled content by mass balance allocation