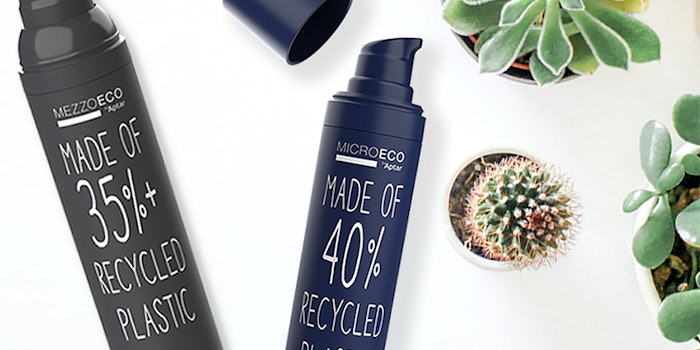 Aptar Beauty + Home, has become the first packaging supplier to pre-qualify more than 45 of its products to ensure alignment with Credo's Sustainable Packaging Guidelines.
UPDATE: Global Cosmetic Industry reached out to Mia Davis, Credo's director of environmental and social responsibility, to learn more about the qualification process.
"So far, Credo has 16 "Preferred Packaging Suppliers." We have interviewed them all, they have thoroughly read our Sustainable Packaging Guidelines, then completed a survey to both illuminate their areas of strength with regard to sustainability and identify components that they might not be able to offer our brand partners."
Related: Micro ECO by Aptar Beauty + Home
She continued, "This dialogue and review takes considerable time. Aptar is the only Preferred Supplier that submitted a list of all of their products that meet or exceed Credo's Sustainable Packaging Guidelines so that our brand partners have clear visibility into which of this firm's packaging components they should be focusing on."
We asked Davis to clarify the advantages of pre-clearing suppliers' offerings.
She responded: "Clarity and time saving for all parties—the beauty brands, the packaging supplier and Credo Beauty, since we often act as a go-between."
What, if any, role will Credo play in helping connect brands with suppliers that can deliver services within the retailer's specifications?
"When Credo launched the Sustainable Packaging Guidelines in April 2020, we promised our 135 brand partners that we'd work closely with them to find the right suppliers," said Davis. "In addition to the usual hurdles (like costs, MOQs, etc), navigating green claims can be really challenging."
She continued, "Packaging suppliers that are greenwashing, or overstating the "eco-friendliness" of their offerings, are not good business partners. They are creating more waste and other environmental problems while misleading both brands and consumers, which is not OK with Credo."
Davis added, "We created the Preferred Packaging Supplier network as a foundation for this partnership, and we're sharing presentations and content, hosting "Brand Consortium" calls to educate and connect, and we're working with a third party to create a searchable platform for Credo-approved packaging."
PREVIOUSLY: Aptar's current product selection includes airless full packaging, dispensers, spray technology and a range of dispensing closures available in at least 50%, but up to 100%, post-consumer recycled resin, in the North America market.
The company has also committed to having 100% of Beauty + Home's products be recyclable, reusable or compostable by 2025.
Philippe Erhart, president of Beauty + Home, North America, said, "As a leader in the packaging industry our mission is to help our brand partners on their sustainability journey while working towards our own circular economy goals. By pre-qualifying our sustainable products, produced in North America, in alignment with Credo's guidelines, we hope to facilitate easier sourcing and provide clear guidance on our products' environmental impacts."