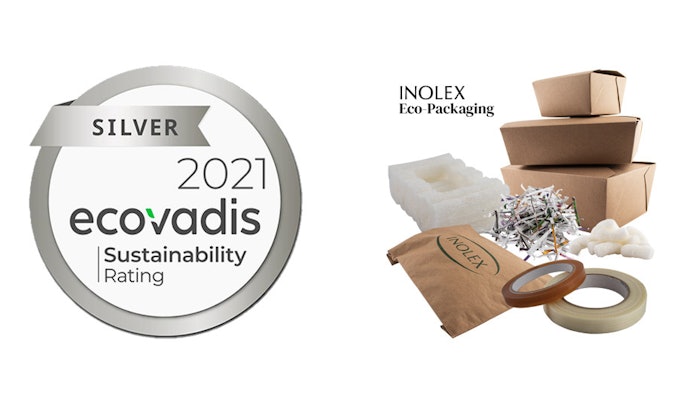 Inolex has received a silver medal from EcoVadis for its 2022 sustainability practices in environmental protection, labor and human rights, ethics and sustainable material procurement. The rating puts Inolex in the 73rd percentile of evaluated businesses. Some of the company's sustainability accomplishments include creating a dedicated corporate sustainability manager position and launching biodegradable sample packaging.
Related: Inolex Reveals Sustainably Focused Website
Inolex has been a member of EcoVadis' sustainability scoring platforms since 2018, and to improve its score, the company underwent a mid-year reporting review built on international sustainability standards, including the Global Reporting Initiative (GRI) and the United Nations Global Compact.
As previously reported by Global Cosmetic Industry, Inolex is one of the suppliers participating in ChemForwards' Safer program that provides suppliers and consumers a third-party option to verify the design and formulation process of its ingredients for safety and transparency. Inolex submitted its emollient LexFeel Natural to be tested for the program. 
The company appointed Audrey Wesson as its first corporate sustainability manager. Wesson will lead the development of Inolex's long-term sustainability program and collaborate with the other departments to set sustainability goals.
To transition its ingredient samples packaging, Inolex incorporated biobased foam from Green Cell Foam that is made from non-GMO corn starch. The packaging also uses upcycled and recycled paper for padding and envelopes and biodegradable packing peanuts that dissolve in water.
Ted Laarkamp, VP of global supply chain, Inolex, said, "While noteworthy on their own, together these initiatives signal a new level of focus and allocation of resources to address issues that are material to our company and to our partners within the beauty care supply chain. All of these initiatives are in step with continuously aligning business practices around ESG issues and demonstrate that we are making bolder moves to advance the sustainability of our company."
Lisa Gandolfi, VP of marketing, Inolex, said, "By creating a dedicated role to manage our sustainability platform, we will be better positioned to collect and analyze data, establish meaningful targets, and advance us on our journey to become a more responsible global citizen through the work that we do."