Berlin Packaging recently introduced its new beauty division, Berlin Beauty Industries, at LuxePack New York on June 15 and 16, 2022. The move follows Berlin's January 2022 acquisition of Premi S.p.A., a global packaging supplier that specializes in solutions for the beauty and cosmetic industries. 
The new division features a wide range of more than 1,500 products from skin care solutions to makeup, from fine fragrance to home fragrance, with a strong focus on sustainability.
Berlin's new lineup provides brands with scalable solutions that reportedly dramatically reduce the amount of plastic used in cosmetics.
Three new specific products were on display at LuxePack:
The Makeup in a Glass collection: Features 5 and 10 ml VIP bottles with a 13/415 neck made of extra-flint glass. Their unique screw neck has been designed to be combined with different types of closures, including the recyclable RE VIP cap made of polypropylene.
The new Airglass Jar: Features 30 and 50 ml containers. The consumer can refill the jar in a few simple steps thanks to the innovative mechanism designed by Berlin Packaging | Premi lndustries, consisting of a removable glass jar that can be refilled using a practical PP bottle.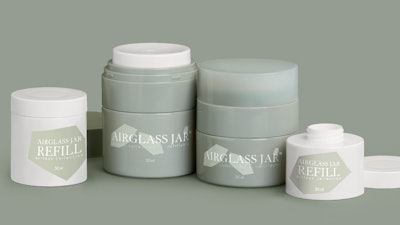 Foamy 150 ml: A glass container used for foam formulas in skin care. It is 100% recyclable.