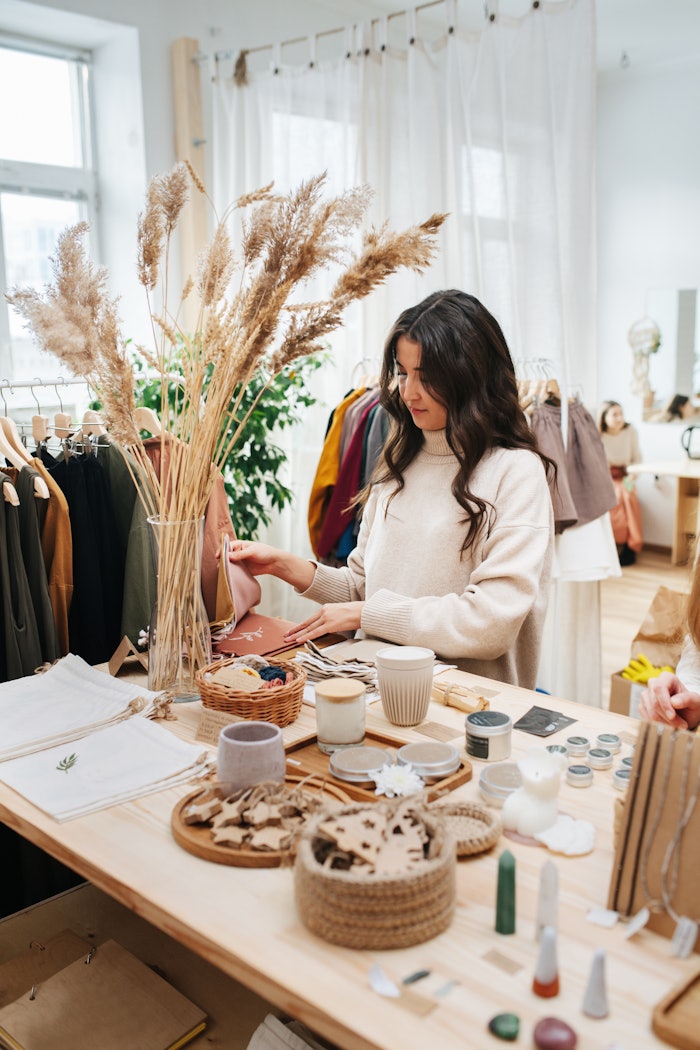 The beauty and cosmetics sphere has received enormous backlash for the constant waste it produces and has been heavily encouraged to seek alternative, eco-friendly options. In 2018 in the United States alone, almost 7.9 billion units of rigid plastic were created just for beauty and personal care products, and  the problem is becoming worse. This is a source of pollution that needs to be addressed. 
At the same time, 58% of U.S. consumers state they would pay more for sustainable versions of their regular personal care products, while 56% would do the same for their beauty products. The good news is that the beauty industry is attempting to shift toward more sustainable options with the development of compostable formulations and packaging that serve as alternatives to synthetic fibers and single-use plastics. 
Compostable items are essential because they break down in the same way organic elements like fruits and vegetables do, producing humus (the richest, most valuable part of the soil) when composted. It's a step beyond biodegradable. 
As composting takes hold of beauty care, more and more brands are coming out of the woodwork with new and improved products. They're rethinking what's possible in beauty, from sheet masks to makeup to hair accessories to everyday use products. These products are increasingly being made from natural materials, such as plant fibers, which can potentially break down in soil, leaving behind no harmful residues.   
In addition to being better for the environment, industry leaders have realized compostable formulas may also be better for our skin. Since they are made from natural materials, they may be less likely to cause irritation or adverse reactions, making them a good option for those with sensitive skin.   
Guilt-free Sheet Masks
Masque Bar has introduced a zero-waste compostable sheet mask. This brand previously brought Korean beauty products to the North American market; it is  now leading the innovation once again to improve consumers' eco-conscious habits with clean products that integrate sustainability effortlessly into their lifestyles. The compostable sheet mask moisturizes and refines the skin barrier. They feature a clean ingredient profile and are compostable due to a composition of up of natural fibers. The masks are 99% natural, vegan, gluten-free, paraben-free, sulfate-free, cruelty-free and Leaping Bunny Certified. 
Eco-conscious Everyday Use
LastObject is a company on a mission to end the need for single-use items. LastObject makes durable and reusable products. The brand uses materials like compostable wood fibers, cardboard and organic cotton in its product design. From swabs to tissues to pads and more, this B Corp-certified brand disrupts the single-use industry with alternative solutions.  
Package Free provides products that use zero or minimal packaging and eliminate single-use plastics from everyday routines. It also ships 100% plastic-free. All of the brand's products—from hair care to skin care to body care and everything in between—can be reused, refilled, composted or recycled. Since its launch in 2017, the brand has reportedly diverted 132 million plastic bags, 3.8 billion plastic bottles and 674,000 plastic razors from landfills. 
Alternative First Aid
Nutricare focuses on making better, natural alternatives to existing products using premium and sustainable ingredients and processes. One of its brands is Patch, which makes compostable adhesive bandages made of 100% organic bamboo fibers to provide antioxidant, skin soothing properties, natural coconut oil to reduce inflammation as well regenerate skin cells, aloe vera to heal the skin and activated charcoal to help draw out toxins. Patch bandages provide hypoallergenic wound care for sensitive skin that's plastic-free, latex-free, and 100% compostable and eco-friendly.   
Bionanopol Makeup 
EcoTools has created beauty and self-care products that fit into today's mindful-oriented lifestyles. From compostable makeup blenders to crystal face rollers o a variety of practical bath brushes and accessories, its products are not only effective, but also vegan-friendly, cruelty-free, and made with recycled and renewable materials. EcoTools' compostable bioblender makeup sponges are made with only five ingredients: water, corn, bionanopol (biobased polyurethane, the secret to making it compostable), a natural preservative and natural pigment. The packaging is FSC-certified and printed with soy ink, as well.   
Bamboo-based
Elate Beauty is a leader in zero waste makeup with their refillable, recyclable and compostable products, including mascaras, lipsticks and lip gloss are contained in a recyclable inner tube and bamboo outer casing. Bamboo is the basis of most of the brand's products. The material is sustainably sourced and not chemically treated. Products come in tin containers with small magnets that fit easily into their reusable bamboo palettes. When finished, consumers recycle the tin container and replace it with a refill that is shipped in a seed paper package that can be planted to grow wildflowers. This capsule beauty brand focuses on minimizing waste and maximizing joy.   
Once users are done using compostable items, they can toss them into a stylish compost bin, called Bamboozle, made from repurposed bamboo. This eco-friendly houseware line prioritizes a cleaner Earth with convenience and quality. Its high-end, affordable bin looks great on the counter and solves the messy, unappealing aesthetic of the compost bin conundrum. These products are durable with a ceramic-like look and feel and trendy colors ideal for every space.   
Paper Packaged Makeup
River Organics is the brainchild of an art historian and a natural product chemist who came together to create a waste-free makeup brand. The  products reportedly have minimal environmental impact. All are packaged in compostable, plastic-free paper tubes and are mailed with recyclable, eco-friendly materials. Even the labels are made with natural fiber, free of bleaching and chemicals, which allows them to be composted as well.   
Konjac Plant Fiber Body Sponge 
Everist believes it's time to rethink everything when it comes to beauty; that's just what it did with its charcoal compostable konjac body sponge. This product can replace single-use cloths or makeup wipes. It's made of 100% natural konjac plant fiber and infused with detoxifying bamboo charcoal powder. Konjac is naturally alkaline, helping balance the skin's pH as well as exfoliating and soothing the skin. This brand believes eco can be for everyone, but only with thoughtful design and results that are an upgrade, not a compromise.  
Mushroom Mycelium 
Ecovative pioneered the art and science of growing complete materials with mushroom mycelium to provide consumers with home-compostable alternatives. Its Forager foam is made from pure AirMycelium, which replaces plastic, leather and other unsustainable products. It's a high-performance foam that can be tailored to a variety of needs for multiple industries and product applications. After their use is through, they dissolve into Earth-friendly, compost-ready organic matter in 45 days.    
Overall, the rise of compostable brands reflects a growing awareness of the need to make more sustainable choices in our daily lives, as well as a desire to take better care of our skin without harming the planet.