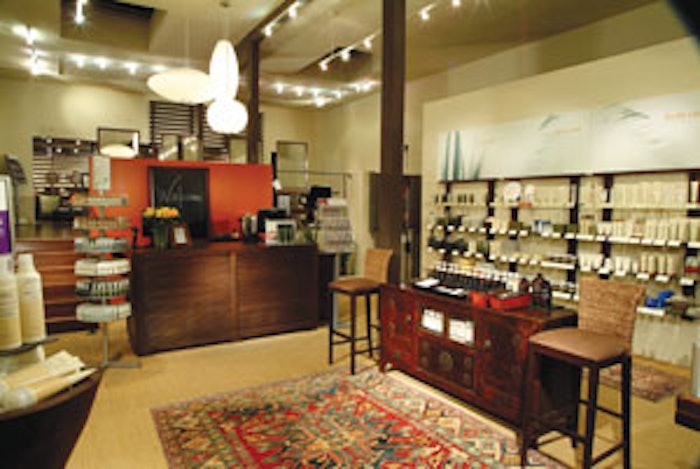 Consumers are numb to sales, and are looking at other ways value is added.
Finding natural personal care has been a barrier to trial. Growth of mass-market outlets will help break down this barrier.
A growing number of niche brands are opening retail locations as a way to stand apart.
Without official regulation or an industry-wide definition of "natural" that is clear and unwavering, consumers may look past the label to the retailer as the gatekeeper.
What was originally a niche category has found a place in beauty aisles in almost every market, and industry insiders predict that natural and organic cosmetics will hold up well in 2009, even if they do not enjoy the dramatic sales growth of previous years.
Statistics from Organic Monitor published late in 2008 valued the global organic and naturals market at $7 billion, and forecast that it would surpass the $10 billion mark by the end of the decade. Despite the current economic climate, consumers are unlikely to give up their commitment to organic products just to save a few pennies, according to Amarjit Sahota of Organic Monitor.
Consumers are beginning to make long-term, realistic changes to their lifestyles. They feel a huge responsibility to both the planet and to themselves. Consumers now include their own personal health as a microcosm and reflection of the health of the planet, stated the Natural Marketing Institute's annual report. The mass consumption society as it was known is over. But this can be good news for the natural market. Increasingly, consumers' values are resonating with companies that are able to fuse both a personal and planetary perspective into their brands. Aveda has found that 68% of consumers will remain loyal to a company that has a social and environmental commitment. This is a growing trend in which consumers are "voting with their dollars," and supporting brands whose values resonate with their own.
Consumers of organic products are very information-focused, and want to know what is in the products and behind the company. "Everything that leads to providing more information should ensure the success of the brand," said Emmanuel Rey, Aveda's general sales manager, North America. Today's information technologies provide consumers with tremendous insight into how corporations do business, how the product is manufactured and the potential environmental consequences of the manufacturing process. For nearly 30 years, Aveda's transparent business model has allowed consumers to trace its path of environmental responsibility. The brand's continued accumulation of environmental victories alongside impressive growth in sales and profit are living proof of this philosophy—and the strength of the company's mission.
Finding Value
While personal care may be better insulated than other industries in a downturn, the natural and organic market is not unaffected by the current economy. "We thought for the longest time that we were invincible," said Paula Alexander, director U.S. marketing, Burt's Bees. But consumers are likely to go for more mid-range and private label organics instead of luxury options. "There's no doubt people are switching to less-expensive brands," added Darrin Duber-Smith, founder, Green Marketing. "We don't have the disposable discretionary income that we used to."
There is no magical formula for bringing consumers in the store and getting them to spend their precious disposable income on high-priced products. This gives an advantage to big companies that are able to spread their costs and offer lower prices. "Lower your prices, lower your profit margins," said Duber-Smith. "It's about survival." He adds, however, that after a holiday season full of discounts, consumers are numb to sales. Instead, find other ways to give them value.
Now more than ever, products that reflect a rich or unique brand story are perceived to be more valuable. "By doing the right thing—providing for the greater good, through health and well-being, the environment and in humanitarian causes—we provide value to the consumer," offered Alexander. Although aware of the need to be cognizant of the current economy, Burt's Bees is not willing to change its existing price strategy. "We will remain true to our values, which ultimately guides our retail strategy," she added. Other brands, positioned with an opening price point, also have an advantage. Brands such as Green by Nature are taking the opportunity to gain greater market share in the natural beauty sector. It seems to be working. Green by Nature's products have driven the 25-year-old company's sales into triple digit increases. "We were able to anticipate demand and build our inventories accordingly," said Steven Shwecky, founder. This demand comes in part from environmentally conscious tweens, who Shwecky feels have been neglected. In response, the company soft-launched Green by Nature girl!, an eco-friendly skin and cosmetic line for girls 7–13, in November 2008, and launched the full line in early 2009 (available at Urban Outfitters, Delia's, Ricky's, select Target stores and more than 3,000 specialty stores in the U.S.). "The main driving message in this market has to be that you can't save the people or the planet if you can't afford the products," said Shwecky.
Transforming Retail
For a long time, health food stores were everywhere and doing well within the natural channel—self-regulating what was natural and organic since government regulation did not exist. But Whole Foods dramatically changed the retail landscape for natural and organic products. The retailer not only is flexible enough to work with the small and local vendor, but it merged the grocery concept with gourmet and natural, transforming the shopping experience. "Whole Foods has an in-store environment where consumers can be educated or inspired by their five senses," said Burt's Bees' Alexander. The result was bridging natural products to the mainstream by making natural products more credible, believable for the mainstream. "It was no longer just a hippie experience, it's a gourmet experience," explained Duber-Smith. "Whole Foods legitimized natural products ... for everybody."
And, eventually, made it okay for natural and organic products to be on the shelves at mass retailers. The industry resisted for a while, wanting to remain segregated at special retail outlets. But now those core brands that dominated the natural channel for so long are big enough to meet the demands of volume, safety and packaging. And more and more shelf space became devoted to these high-growth categories.
"Some experts believe that consumer demand for natural and organic beauty products may be the single most important issue to impact the beauty industry in its history," added Diane Hintz, publisher, Organic Beauty magazine. "This demand will translate into a continuing growth opportunity for retailers and online stores."
She points to the recent additions of natural and organic personal-care departments within major department stores such as Nordstrom and Macy's, and superstores such as Target and Wal-Mart, as evidence.
It makes sense, now that natural and organic shoppers can be found everywhere you go. Burt's Bees' strategy as an organization is to make personal care products available everywhere, particularly where people shop regularly. The brand secured distribution with Macy's, and is expanding its distribution in Wal-Mart stores—in addition to its current sales at CVS, Walgreens, Target, and local and national grocery chains. The strategy in expanding its consumer base being: If they can't try it, they can't buy it. "We discovered that finding natural personal care was a big barrier to trial," said Alexander. "As much as we hope to educate the consumer through advertising or grassroots mobile tours, the point of purchase is the moment of truth, when a decision is made."
To that end, Aveda will be quadrupling its consumer sampling efforts this year. The brand has a very high trial-to-purchase ratio; 22% of people who try an Aveda sample will buy the actual product—a very high percentage for the beauty industry, where the average is approximately 3–5%, according to Rey. Aveda will also continue to ensure that the in-store experience is unique, mission-aligned and highly experiential. "Retail offers the possibility for engaging a new consumer to experience the brand," added Rey. "The in-store experience needs to educate the consumer and give a strong visibility to the brand."
Aveda also strives to create added value at multiple stages of the customer journey throughout the spa retail environment—making a memorable in-store experience. "Aveda is experiencing much of the same challenges as most consumers and businesses; however, we are a service-focused business and part of a strong corporation that has strategically cut spending so as not to have any impact on the consumer," said Rey. Tough decisions were made early on in the current economic crisis to maintain that customer experience.
The Mass Advantage
While sales are stagnating at natural and organic retailers, there's a continual increase from mainstream retailers: supermarkets, drugstores and department stores. "We expect to see higher sales growth from mass-market retailers in the U.S. and Europe, as product penetration increases in supermarkets, drugstores and beauty retailers," said Organic Monitor's Sahota. These retailers have the opportunity to educate the masses about the benefits of, the unique differences of and the ingredients used in natural/organic beauty products.
Noah's Naturals chose to launch its line at Wal-Mart. "Wal-Mart has an exciting vision for servicing the consumer and we believed that we could add real value," said Noah Bremen, creator and CEO. "We continue to be very excited about what they are doing and the opportunity that they provide our brand—via millions of consumers." The brand is now available at other big box mass retailers and will continue to expand distribution of its best-performing items.
Unfortunately for some brands in mass retail environments, green is not often a first priority; it's a tie-breaker. Especially as more private label products infiltrate the marketplace, it is difficult for niche brands to stand out. Therefore, a growing number of brands—such as Bare Escentuals, Korres and Jurlique—open concept stores. And most niche brands succeed by focusing not on mass outlets, but on specialist retailers or niche channels such as direct marketing or spas instead. Offering a true difference, a solid reputation and credibility are strategies for opening those markets.
Eco Claims
Consumers are learning to read product labels to avoid greenwashing words such as "natural" and "planet friendly" that aren't backed up by standards or third-party organizations. As like-minded groups come together, there is an attempt to cut through the confusion, and the focus of the mass media on greenwashing has forced the brands to become more open in their claims. "We expect to see more certified products coming out this year," said Sahota. But as a variety of organizations vie for the right to be the "official seal" of natural beauty, things could get worse instead of better. Each organization has its own standard and accompanying seal, and this, it could be argued, may actually be pushing the industry farther from a harmonized position and causing more consumer confusion than before the tremendous growth of the standards and seals. The recent suit brought by Dr. Bronner and the Organic Consumers Association in regard to seal usage and disparaging standards is indicative of the chasms that exist. Although there is disagreement on many issues, the need to create a clear and consistent message for consumers while bolstering product credibility and positioning is clear.
Without official regulation or an industry-wide definition of "natural" that is clear and unwavering, consumers may look to the retailer as the gatekeeper.
"We have been engaging with key partners to attempt to create merchandising environments that enhance the natural positioning and serve to truly educate and create a natural beauty oasis at the mass market level," said Noah's Naturals' Bremen. As more mass-market retailers embrace natural beauty in a significant way, there may be a consolidation of brands and a focus on those that meet a select standard of natural. Retailers are also seeing a benefit to establishing a natural set, and want to maintain credibility with green shoppers. Committed brands are working with organizations such as the Natural Product Association to help retailers educate consumers. "Retailers want to put a stake in the ground for what the standards should be," said Burt's Bees' Alexander. But to add to the confusion, some retailers are also developing their own standards, such as Whole Foods, which has the Premium Body Care Standard to differentiate its products.
Future
Retailers have a tough road ahead of them as the recovery from the economic slowdown begins. Unfortunately, many stores will not survive to the end of 2009. Yet, new brands continue to emerge, some large and others still stirring formulations in their kitchens, and looking to retail their products. "The hope is that the efficient will survive," said Duber-Smith. "It will be good for the consumer, eventually."
As efforts toward natural's more encompassing cousin, sustainability, grow, products deemed natural are increasingly more aligned with these efforts. Sustainability is a way of doing business, and natural products, therefore, have some surprising and powerful allies. With its packaging scorecard commitment to reducing packaging across its global supply chain by 5% by 2013, Wal-Mart has emerged as one of the most eco-friendly companies in the U.S., according to Duber-Smith, with huge influence in forcing suppliers to consider resources.
In addition, the market is driven by a perfect storm of consumers, nonprofits, industry, media and government demanding more natural and environmentally sustainable products. And while the industry can't anticipate a continuation of the dramatic growth rates of recent years, opportunities still remain.
The retailers that educate and provide strong assortment will come out on top. Strong assortment does not mean aisles and aisles of product—it's a selection of the best-performing, authentic brands.
Sara Mason is a freelance writer based in the Chicagoland area. She was previously managing editor of GCI magazine.