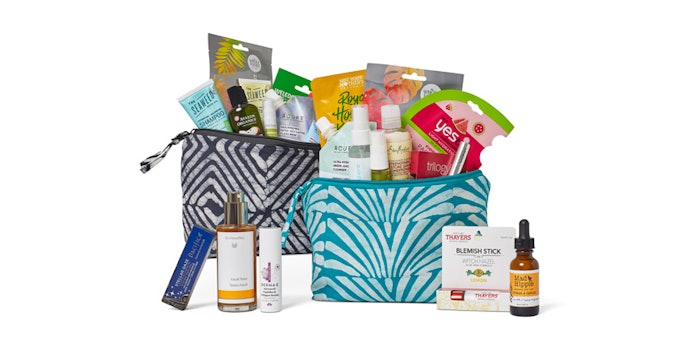 For the second year in a row, Whole Foods Market released its list of the top five beauty and wellness trends for the year. 
Rounding out the 2020 list were bakuchiol, blue light defense, watermelon infusion, glycolic acid and all-over body masks.
Whole Foods' Top 5 Beauty and Wellness Trends
Bakuchiol can be used as a plant-based alternative to retinol and is reportedly gaining popularity with clean beauty consumers, Whole Foods explained. Products currently using the ingredient include 

Acure's Radically Rejuvenating Bakuchiol Mirror Mask; Cocokind's Resurfacing Sleep Mask; and Burt's Bees' Renewal Line: Refining Cleanser, Firming Moisturizing Cream, Firming Day Lotion, Intensive Firming Serum.

Blue light defense products, including serums and detox sprays, are utilizing ingredients such as carotenoid lutein, blue green algae, charcoal and ginseng root extract. Products currently offering blue light defense include 

Derma E's Blue Light Shield Spray, Blue Light Shield Concentrated Serum.

Watermelon (citrullus lanatus) is being used in hair care, face masks and lip balm, due to its natural antioxidants—vitamins A, B, C and E. Products containing the ingredient include 

Yes To's Watermelon Super Fresh Line: Paper Mask, Jelly Mask, Gel Moisturizer, Facial Wipes; Nügg's Morning Glow Watermelon Sleeping Mask; and Acure's Daily Workout Watermelon & Blood Orange Shampoo and Conditioner.



Glycolic acid is being used in cleansers, face masks, makeup removing wipes and exfoliation solutions for smoother-looking skin. Products currently utilizing this ingredient include 

Acure's Resurfacing Glycolic + Unicorn Root Cleanser; Acure's Resurfacing Inter-Gly-Lactic Flash Mask; Acure's Resurfacing Dewy All Day Moisturizer; Pacifica's Glowing Glycolic Acid, Orange & Vanilla Makeup Removing Wipes; and Yes To's Grapefruit Glow-Boosting Daily Exfoliating Tonic.

Masks for feet, hands, hair and even consumers' behinds are pushing the all-over body mask trend into the mainstream. In 2020, shoppers will select masks to target specific areas of the body. Masks embracing this trend include 

BioRepublic's Lost Baggage Under Eye Emergency Repair Masks; Not Your Mother's' Naturals Royal Honey & Kalahari Desert Melon Butter Masque; Yes To's Tighter and Lifted Booty-ful Paper Mask; and Oleum's Vera Firming Mud Body Mask.