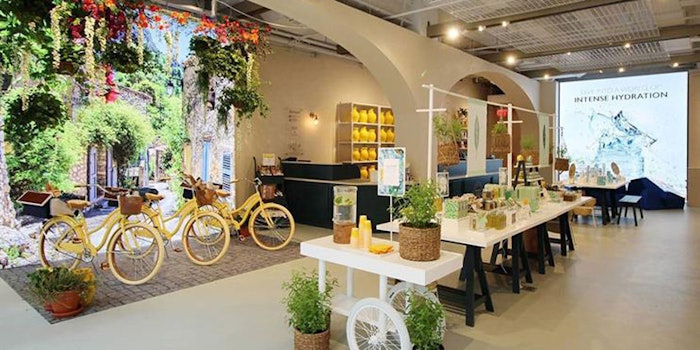 As part of its customer-first retail strategy, L'Occitane en Provence's new concept store on Fifth Avenue in New York City will offer "interactive customer touchpoints" that will regularly change to highlight seasonal campaigns. 
The 1,870 square foot store, located at 555 Fifth Avenue, includes a "rain-shower" sink, an interactive skin care consultation area, a curved communal bench beneath a Mediterranean olive tree and enhanced fulfillment services "comptoir." According to L'Occitane, the new store will be more disruptive [than its experiential boutique in the Flatiron District] and attract new customers, encourage engagement and produce user-generated content for social media. 
Christina Polychroni, regional chief marketing & e-commerce office for North America, said, "At 555 Fifth Avenue, each customer's experience is intended to be unique and we are excited to launch this interactive boutique. Customers will be able to explore the L'Occitane brand history and signature products through ever-changing immersive installations that echo the Provencal arte de vivre and rich story-telling moments."
The L'Occitane Group is aiming to provide unique shopping experiences with this customer-first retail strategy. The Group explained, "in today's digital world, customers rarely enter a L'Occitane store purely out of 'need'; they expect to be pampered and entertained and want to indulge in the experience."
Throughout the world, L'Occitane flagship stores are aimed at the interests of local clientele:
In Brazil, a "Casa Brasileira" style has been created to reflect the welcoming spirit of a Brazilian home;

In Paris, the concept store on the Champs-Élysées partnered with French pastry chef Pierre Hermé and allows customers to savor a dessert or macaroon inspired by L'Occitane iconic ingredients;

In London, the new flagship on Regent Street offers personalized product engraving, complimentary hand and arm massages, and beauty consultations in private rooms, as well as an in-store café offering limited edition Pierre Hermé macaroons;

In China (L'Occitane's fastest growing market last year), store assistants demonstrate how to wrap gifts and film the experience so customers can immediately share on social media; 

In Singapore, a pop-up café concept was launched at the Ion Orchard Mall in July in partnership with Janice Wong, Asian pastry chef and protégé of Pierre Hermé;

In Toronto, the new flagship at Yorkdale Mall features a pair of suspended digital capsules that allow visitors to see, hear, touch and smell the flavors of Provence through a fully immersive digital experience; and

In April 2018, the L'OcciTruck was launched in North America, which was the brand's first traveling shop experience and retail store.