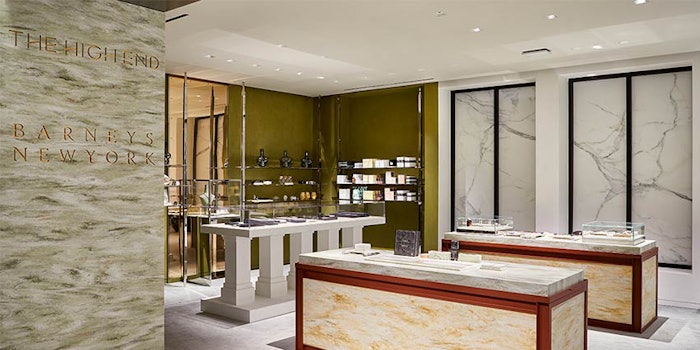 Need proof that cannabis has shed its hacky sack and ponchos connotations? Look no further than the location of the hautest new head shop—Barneys.  
Located on the fifth floor of Barneys Beverley Hills, The High End is described by the company as a "essentially a luxury head shop," with paraphernalia including rolling papers and custom blown glass pieces sharing shelf space with CBD-infused beauty. The company also struck up a partnership with glam CBD brand Beboe.
Related: From Vice to Lifestyle: CBD, Cannabis, Hemp and Beauty
The shop will open both in-store and online at Barneys.com on March 29, 2019.
"Barneys New York has always been at the forefront of shifts in culture and lifestyle, and cannabis is no exception," said Barneys CEO Daniella Vitale. "Many of our customers have made cannabis a part of their lifestyle, and The High End caters to their needs with extraordinary products and the service they experience in every facet of Barneys New York."