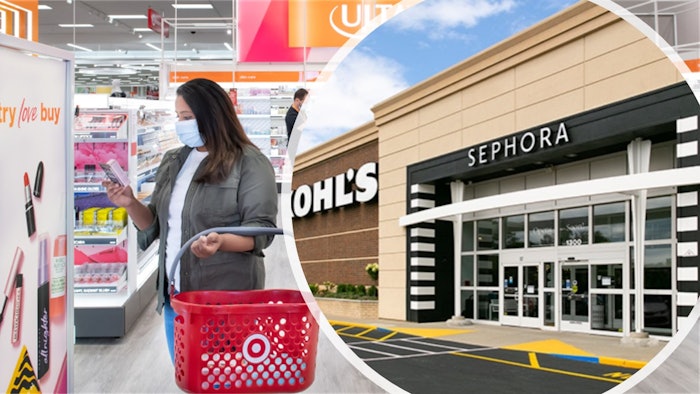 The big news out of the latest retailer quarterly earnings was inventory overload, particularly in areas like electronics, home goods and apparel. But beauty remained a bright spot, particularly for Kohl's and Target, both of which are now expanding their partnerships with Sephora and Ulta, respectively.
In its latest earnings presentation, Sephora noted that it had completed about 600 stores refreshes, with Sephora as a "key cornerstone." The partnership has been so successful for the retailer that it will now include a Sephora presence at all of its 1,100-plus locations. 
(For context, in 2021, 200 Sephora locations opened within Kohl's. Kohl's is on pace to open 400 Sephora stores in 2022 and will open another 250 shops in 2023. The retailer is working with Sephora to design a smaller footprint concept for remaining stores.)
Kohl's now projects that Sephora at Kohl's will grow to achieve $2 billion in annual sales by 2025. 
"Sephora at Kohl's continues to exceed expectations driving incremental sales and attracting new customers in stores," the retailer noted in its quarterly report. It added, "Kohl's stores with Sephora continue to outperform the balance of chain, attracting new customers and driving traffic."
Kohl's has acquired more than 1 million new customers since launching the partnership in August 2021. The shoppers coming to Sephora at Kohl's are "new, younger, and more diverse," compared to the retailer's core shoppers, per the company. They also visit more frequently.
As a result, the retailer is "seeing a mid-single digit percent sales lift" at Kohl's Sephora locations because about half of all customers buying Sephora are are shopping in at least one other category during their shopping experience.
Top selling brands at Kohl's Sephora locations include Sephora Collection, Sol de Janeiro, NARS, Fenty Beauty, Charlotte Tilbury, OLAPLEX and Too Faced.
Charlotte Tilbury has also performed well and will expand its presence within the retail partnership.
New brands have joined the partnership, including Versace, Murad, Clarins, Living Proof, Jack Black, and Voluspa.
Echoing Ulta Beauty at Target's recent scent expansion, Kohl's Sephora sites will be broadening their fragrance ranges. Men's grooming will also expand in a dedicated space.
Furthermore, Sephora at Kohl's will be adding the ability to purchase and redeem Sephora gift cards at Kohl's stores; institute buy online, pick-up in store service; offer cross-store promotions; and place Sephora beauty sites adjacent to Amazon Returns. 
"Sephora at Kohl's provides our customers with easier access to prestige beauty, and the partnership has brought in new, younger and more diverse customers to Kohl's," said Michelle Gass, Kohl's chief executive officer. "We are incredibly proud of how our companies have come together so seamlessly to create a truly unprecedented and unique in-store experience. We couldn't be happier with how our partnership with Sephora continues to perform and achieve the goals we set out to accomplish. Our success to date proves that this partnership is working, and this expansion is the next, exciting chapter in our history together."
"For such a big endeavor, our partnership with Kohl's has been executed extremely well and has delivered incredible results thus far, and there is so much potential to this partnership with the addition of 400 stores that have opened this summer," said Jean-André Rougeot, president and CEO, Sephora Americas. "At Sephora, our mission continues to be welcoming more people into the prestige beauty community, and we are achieving exactly that. In the past twelve months, we've been able to bring the premium experience Sephora is known and loved for to new communities across the country, giving them the access to beauty that we know they are yearning for."
Ulta Beauty at Target has also been a bright spot in an otherwise challenging retail environment.
In its latest earnings call, Target chairman and CEO Brian Cornell said, "[W]e've been rapidly expanding the number of stores that feature an Ulta Beauty at Target, given the incremental traffic and sales they deliver."
"Beauty grew in the high single digits, reflecting notable strength in Ulta Beauty at Target, along with the skincare and bath categories," said Christina Hennington, executive vice president, chief growth officer. "We'll ... expand our leading national brand partnerships, including opening more Disney stores and, of course, Ulta Beauty at Target. In fact, we're only a year into this new [Target] partnership, and there's plenty of room to grow ahead."
Hennington added, "With the introduction of new designer fragrance brands, including Coach, Clinique, Kate Spade, and more, as well as additional skin and hair care products, we continue to evolve the assortment to bring more joy to our beauty guests. We remain on track to open at least 250 of these unique spaces this year. Plus, we've already seen more than 1.5 million guests link their Target Circle and Ultimate Rewards accounts, a number that's sure to continue to grow in the months and years ahead."
For full-year 2022, Target will be investing in several hundred new Ulta Beauty at Target locations, per the executives on the call. 
Even as the economy experiences challenges, beauty remains a bright spot.