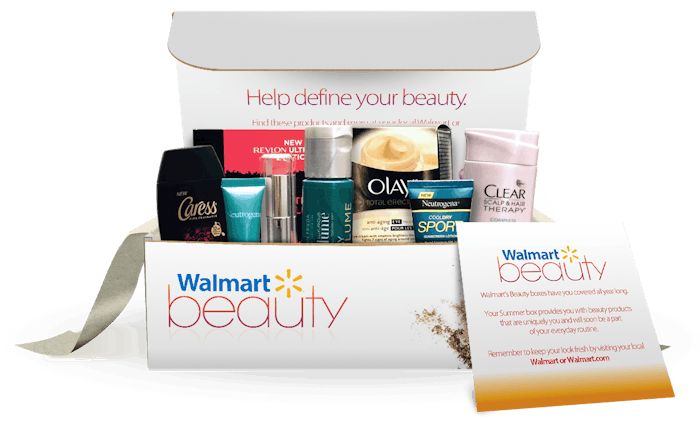 Walmart
Sampling has the largest impact on Walmart Beauty Box subscribers, particularly compared to television and print ads, according to Colleen McGovern, vice president, account management at BrandShare, which exclusively coordinates Walmart's Beauty Box.
The modern era of the beauty box turns five in September, the anniversary of Birch Box's founding. Since that time, the omnichannel has become a two-way street. Birch Box has evolved to embrace brick-and-mortar retail, while the beauty box concept has been adopted by countless beauty startups and traditional retailers (even Sephora is getting into the game with its newly announced Play! offering), which offer programs at a cost of anywhere between $10 and $50.
Further reading: Getting the Most from Sampling Box Partnerships
Walmart's seasonal (spring, summer, fall and winter) beauty boxes are offered at a cost of $5 per edition, essentially the expense of shipping. McGovern says the program allows the retailer to engage both baby boomers and millennials with tailored product arrays at a cost that is in line with its traditional low-price positioning.
The retailer's first box sold out in days, McGovern says, with subscriptions increasing each season. A typical edition may include everything from lipstick to mascara to facial wipes to deodorants. Each box contains at least one full-size cosmetic product.
An emblematic unboxing review video is embedded below:
McGovern notes that, as the video shows, beauty box subscribers are highly vocal about their products. To prompt consumer engagement, Walmart sends an email to subscribers after a box has been received, encouraging them to shop and post reviews at Walmart.com. These reviews provide the retailer and its partner brands with invaluable consumer insights.
So far, the program has revealed that, across categories, cost- and value-conscious consumers respond to samples of products that they can realistically purchase on a regular basis. And they absolutely love getting a full-sized product in among the samples.
McGovern says that the Walmart Beauty Box provides a sampling opportunity for mass brands that wouldn't typically be included in many prestige box subscriptions. Walmart offers its participating beauty box brands exclusivity in each category (ex: body lotion, shampoo, etc.).
While McGovern couldn't share details of what's next for the subscription service, it's clear that Walmart and its competitors are continuing to boost their omnichannel strategies in the beauty sector.
To learn more about the Walmart Beauty Box program or participate, click here.