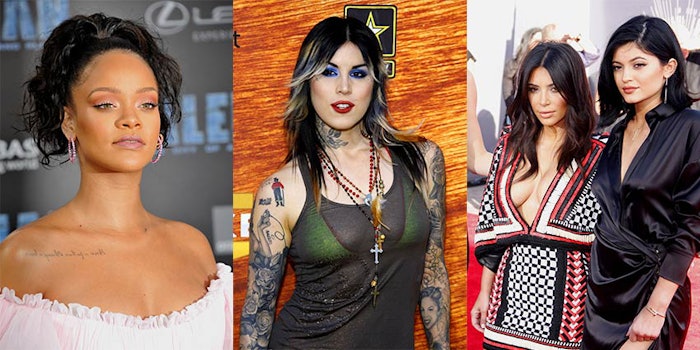 According to a new study from Slice Intelligence, Kylie Cosmetics is the reigning queen of celebrity-fronted "diva" makeup brands—but Rihanna's Fenty Beauty is coming for the crown.
The study surveyed 5.5 million online shoppers, focusing on four "diva" brands: Kylie Jenner's Kylie Cosmetics, Fenty Beauty by Rihanna, KKW Beauty (founded by Kim Kardashian West) and the Kat Von D. Though they are purchased by just 12% of overall cosmetics shoppers, these brands accounted for 29% of category's revenue.
While Kylie Cosmetics claimed the highest sales of any "diva" brand between November 2016 and October 2017, Fenty revenue bested Kylie Cosmetics five times in September (when the brand launched) and 31.7% in October.
Related: Kat Von D Re-Launches Studded Kiss Crème Lipsticks
Additionally, Fenty claimed the highest dollars spent per buyer, with the average customer spending $437.32 a year on makeup—five times more than the average online cosmetics shopper. Customers who purchased from no diva brand averaged $82.62, while Kylie Cosmetics customers spent an average of $197.80 per year on cosmetics.
Other key information from the study: Fenty fans are also among the most diverse, significantly over-indexing among African American, Hispanic and Asian shoppers, compared to other makeup brands. (The study notes that all "diva" brands over-indexed with non-white consumers.) Kylie Cosmetics had the most loyal fans—82.1% exclusively buying from the brand—while only 35.4% of KKW buyers do the same.