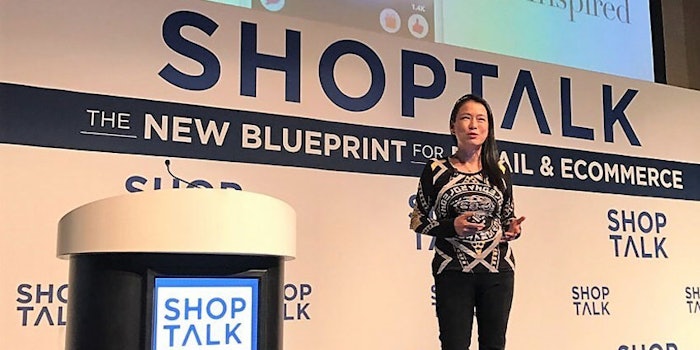 Perfecting online to offline (O2O) beauty commerce seems to be YouCam Makeup's main focus as of late.
After recently announcing its first live stream beauty network, Alex Chang, CEO of Perfect Corp., spoke at ShopTalk's e-commerce event in Las Vegas (pictured above) about YouCam Makeup's consultation mode currently deployed in physical stores.
Chang explained that augmented reality (AR) is at the center of the consumer journey, which begins when users discover and try branded products through the YouCam Makeup app and continues at the makeup counter equipped with magic mirror consultation kiosks that help to select products and colors quickly and easily in-store.
Chang went on to say, "The creation of a fully integrated beauty experience is proving to be a game-changer for consumers, cosmetic brands and retailers as YouCam Makeup's AR technology helps connect the online and offline worlds. From selecting the right color on your mobile to testing out products in-store and then sharing socially, YouCam's complete AR shopping experience empowers consumers to feel more confident at every step of their beauty discovery and purchase journey."