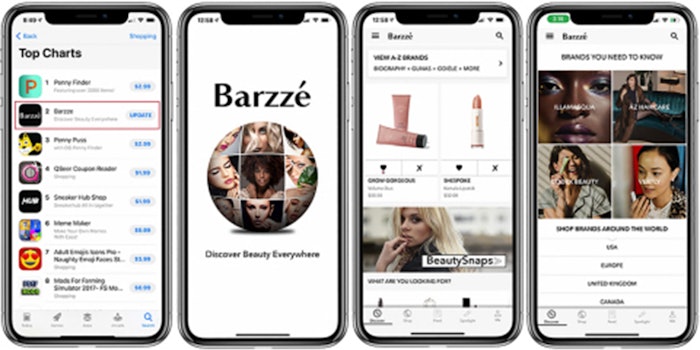 Fashwire, a fashion shopping marketplace, has announced the launch of its sister platform, Barzzé Beauty, a two-sided global marketplace offering personalization and consumer business intelligence for the beauty industry.
Related: Clever Knox Launches The Freestyle Beauty Network
Barzzé Beauty offers users organic discovery of worldwide beauty brands through an interactive experience while providing brands with consumer data.
The Barzzé Beauty marketplace features include:
A Pinterest-style layout that offers inspiration for clean beauty, new makeup styles, beauty tips, wellness and more, powered by consumer preferences. 

A swipe functionality that enables users to give real-time feedback on their product preferences, which brands then receive the data on.

Detailed overview of beauty products and brands with up-to-date information on product formulations and company insights.

Post and discuss new products and beauty tips with other users through an engaging social feed within the Barzzé Beauty app and online called BeautySnaps.

Users can post each week on BeautySnaps and win beauty products based on the community likes and engagement.
Brands featured on the platform include brands such as Eyeko, Grow Gorgeous, själ Skincare, Veronique Gabai and Vertly.
Barzzé Beauty allows partnering brands to build up momentum and revenue with access to its consumer base for zero cost until September 1, 2021.
The Barzzé app is available on iOS and Android.
Kimberly Carney, Fashwire founder and CEO, said, "I am excited for the launch of Barzzé Beauty. Our mission is to reframe the beauty world by providing users a unique opportunity to discover new brands and trends while delivering these brands with vital customer feedback. Barzzé Beauty sits at the intersection of beauty and technology, providing invaluable insights to build the next generation platform for the beauty industry."
Carney added, "Barzzé Beauty will be at the forefront as a resource for brands and consumers by keeping beauty at your fingertips through a global perspective. User interaction is a key differentiator for Barzzé Beauty and combining that with our highly curated editorial lens is the most coveted solution for emerging and niche brands."