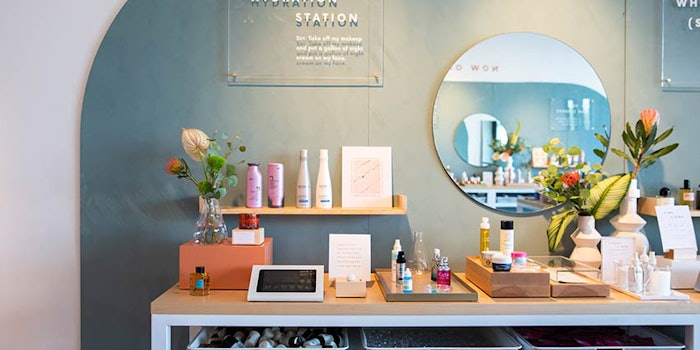 Byrdie and Amazon are hosting the second annual Byrdie Beauty Lab pop-up.
Held July 20-29 in West Hollywood, Calif., guests will have the opportunity to test out Byrdie editors' favorite summer products, take home product samples and attend master classes taught by industry experts. The lab features beauty stations with a variety of products, from partners including Sunday Riley, Burt's Bees, InStyler, Laura Geller and Pureology. Additionally, Nexus will host a dedicated class focusing on fall hairstyles, led by celebrity stylist Kacy Redway.
Via Amazon integration, guests will be able to shop their favorite products instantly. A Byrdie-curated storefront on Amazon will allow customers to shop each lab station and every product in it.
Related: Amazon's Beauty Business Thrives Thanks to Young Consumers
"Byrdie Beauty Lab is the physical extension of our commitment to making beauty approachable, applicable, aesthetically inspiring, and 100% shoppable," said Faith Xue, editorial director of Byrdie. "Our readers come to us to learn about the latest and greatest in the beauty space, so I think they'll be really excited to actually test and play with some of the products we always write about, from brands such as Nexxus, Pureology, Laura Geller, Nars, Elizabeth Arden, and many more."
"Beauty remains a category where many consumers want to look, smell, and touch products prior to purchase," added Marc Rothschild, president and COO of Byrdie parent company Clique. "Byrdie's Beauty Lab takes the inspiration to purchase that experiences and content can create, and provides a real-time commerce outlet that can be linked to in Byrdie editorial content long after the experience ends. Using content and experiences to seamlessly take consumers from inspiration to purchase provides utility to them, is valuable to our advertising partners, and is something that is core to our Clique DNA."
The Lab is open to the general public, 2:00 pm-8:00 pm on weekdays and 11:00 am-6:00 pm during the weekends; for master classes, guests must RSVP at beautylab.byrdie.com.