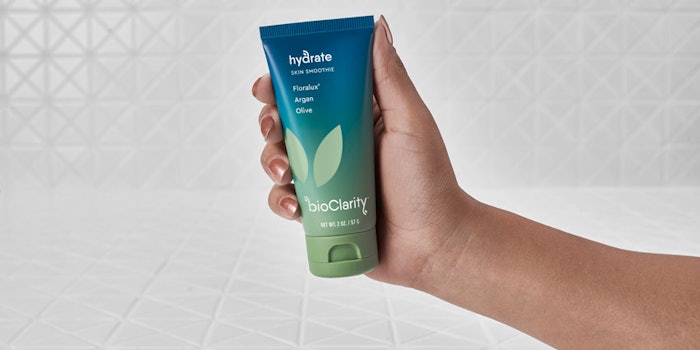 Perhaps one of the biggest beauty industry trends of 2018 was the move many online-only brands made from e-commerce platforms to traditional brick-and-mortar retailers. 
Among the brands making the move into physical retail spaces was plant-based skin care brand bioClarity. Initially sold on its e-commerce site and Amazon, bioClarity expanded into select Urban Outfitters stores nationwide in November 2018.
Global Cosmetic Industry caught up with CEO of bioClarity, Rick Sliter, to discuss the expansion from online into brick-and-mortar, tips for other online brands thinking about making the move towards physical retail and what's next for the skin care brand.
Global Cosmetic Industry (GCI): Why did you decide to partner with a brick-and-mortar retailer? Why now?
Rick Sliter (RS): Until this month, we have been exclusively direct-to-consumer online via our website and Amazon. We had a couple of primary reasons for pursuing a partnership with a brick-and-mortar retailer such as Urban Outfitters. First, our brands have shared appeal and reach a similar consumer. This allows our products to get in front of our consumers in a physical setting where they can be experienced in person (rather than just on-screen) before buying. Secondly, retail partners such as Urban Outfitters can be an important way to add incremental credibility to a brand. When a retailer chooses to sell a brand's products in its stores, it adds a sort of retailer endorsement to the products and confirms that the products fit into their target demographic's set of values.
GCI: What was the reasoning behind the decision to partner specifically with Urban Outfitters as bioClarity's first brick-and-mortar partner? What are you hoping to achieve with the partnership?
RS: We could not have found a better retail partner than Urban Outfitters. Their core demographic aligns perfectly with ours, and we admire how they have placed a focus on curating products in-stores and online for their customers, making it a one-stop-shop for most of their needs. Being available in select Urban Outfitters stores nationwide and online will allow us to reach more of our demographic than before.
GCI: Do you have any advice for other skin care brands looking to partner with brick-and-mortar retailers for the first time?
RS: Choose retailers that are aligned with your brand and with products from an ethos and vision perspective. Also, the element of the partnership is paramount. Retailers who are vested in creating long-term successful partnerships will foster continuous two-way dialogue and connection to generate success so that your brand is not just a product on a shelf.
GCI: What is next for bioClarity?
We have some major innovations in the pipeline for 2019, including a brand new serum, Zen, which will launch in early January. Following the launch of Zen, we will continue to expand our product portfolio in both the skin care and body care lines to four more products by mid-year. And there are even more great things on the way that we can't wait to share with everyone!