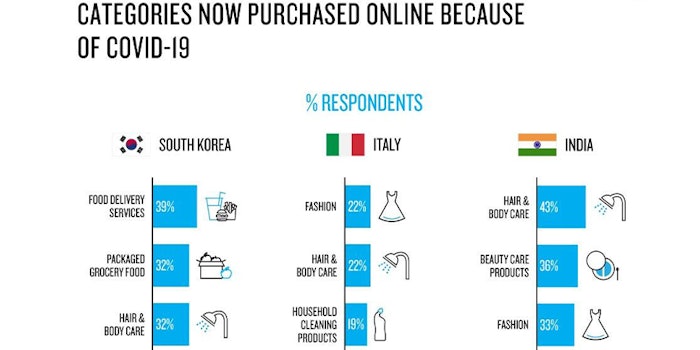 Recent findings from Nielsen's global e-commerce syndicated study shows that 30% of surveyed shoppers claim to be new to e-commerce this year, with the other 70% saying they shopped online prior to the onset of the pandemic.
Related: Reddit's 2020 Beauty Leaders
While groceries are a big category for e-commerce this year due to COVID-19, categories such as hair care, body care and self care products are seeing an increase as well. 
In some markets where e-commerce is still maturing, Nielsen has reported categories that align to self care have become more of a digital affair. In India, where e-commerce is swiftly growing, 43% of urban online shoppers say they purchase hair and body care products via e-commerce due to COVID-19.
In Italy, more than two in 10 surveyed shoppers now purchase fashion, hair and body care products online because of COVID-19 conditions.
Across surveyed markets, the average online shopper has ordered from approximately four different e-tailers in the past three months. In Asian markets, this number has been even higher, with online shoppers claiming to have spread their purchases across as many as five e-tailers in China and six e-tailers in Korea.
A large factor reported is the ease of shopping for consumers. For more than 50% of surveyed shoppers, ease of payment and free delivery are highly influential, driving many shoppers to decide to complete their purchases online.