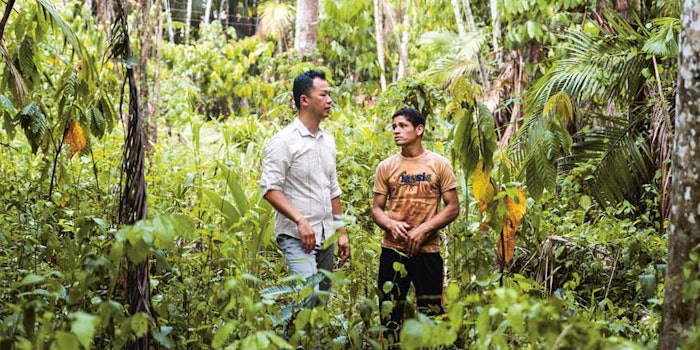 In an effort to support sustainable agriculture in the Amazon region, Symrise launched a three-year project in October 2017 to help farmers improve products with newer technology. The company partnered with Brazilian cosmetics manufacturer Natura, and the German Society of International Cooperation (GIZ) with the mission to protect the local rain forest.
This project aims to protect biodiversity while researching raw materials from the area for use in fragrance and personal care products. With the support of the governmental department for development aid to protect the Brazilian rain forest, Symrise is working against deforestation and other threats to the Amazon region. In the Amazon, 80% of Brazil's flora and fauna can be found, but significant swaths of natural vegetation are disappearing throughout the decades. 
According to the company's press release, "The idea is to restore the natural vegetation along the Trans-Amazonian Highway and in the Northeastern Pará and Ponta do Albuna regions through changed cultivation of the land and reforestation measures."
Benefiting Locals
With this project, farmers will learn to cultivate the land more efficiently with newer technology and increase the stability of local livelihoods and income. This results in sustainability for both the people and the environment.
Symrise and Natura will provide cooperatives with technical equipment and management expertise on-site, while the GIZ will train farmers in Brazil and handle government aid—all key tools farmers did not have in the past.
More than 1,000 families rely on the local cooperatives, which consist of 14 partners. Through these measures, partners are expected to increase sales by 20% and will receive a certification from the Union for Ethical Biotrade.
"It is important to involve all potential parties in this project," said Adelino K. Nakano, regional innovation director at Symrise. "Reshaping and improving the technical expertise and processes in these communities is a huge opportunity for everyone."