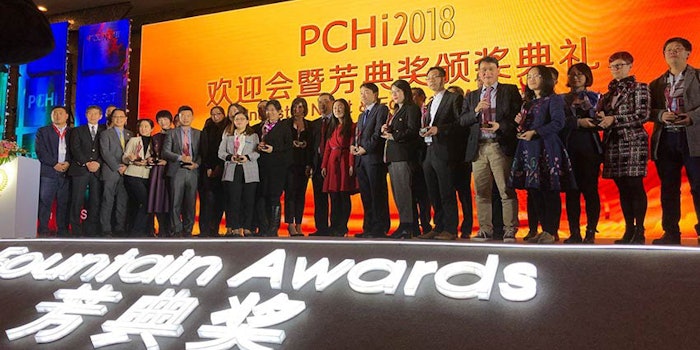 @PCHiExpo/ via Facebook.com
Azelis won the 2018 Fountain Award for Personal Care and Cosmetics Innovation at the PCHi exhibition in Shanghai, the company announced.
It was rewarded for its active ingredient Tagra CelluCaps C, a microencapsulation delivery system which whitens skin, increases cell renewal and prevents moisture loss. This is the fourth consecutive year Azelis has won the award.
The CelluCaps range utilizes Tagra's Release on Demand technology, which provides stability, efficiency and controlled/immediate release for non-water-soluble ingredients. The polymeric shell collapses, and microcapsules begin to fracture, once the user begins rubbing the formulation onto the skin. This releases the encapsulated active.
Related: Momentive and Azelis Partner for Personal Care Down Under
The competition saw a total of 103 product entries. Products were evaluated in two rounds, judged by nine leading cosmetics industry and government experts.
"We were up against fantastic entries from key players in our industry and it is a true honor to win the Fountain Award for Innovation for the fourth time," said Jane Zhang, head of personal care, China. "This is a true testament to our teams and am delighted that the innovative formulation developed by Azelis  and based on a cutting edge ingredient provided by our partner Tagra has been rewarded with this recognition."
Added managing director, China Conrad: "We are thrilled to see that Tagra CelluCaps C has pleased the PCHi judges. The technical excellence of our people and the high quality ingredients delivered by our principals aids Azelis' success. With over 21 years' combined experience and excellent market connect, our three formulation experts from our Personal Care team in China are more than well positioned to anticipate market trends and proactively offer innovative solutions. We are delighted with this award and will continue to excite the market through further development of new ideas and innovation, continually strengthening our offering to customers."