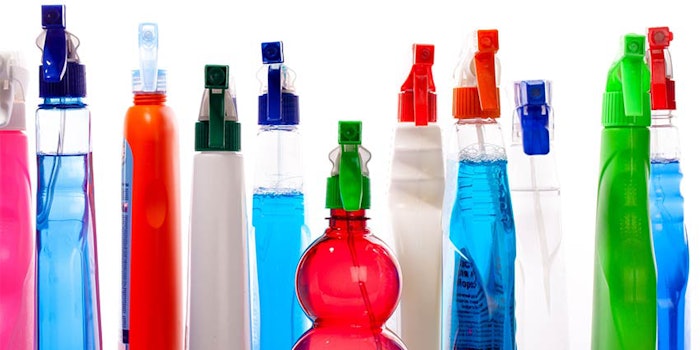 Pilot Chemical Corp. has announced the addition of 32 of its products to the Environmental Protection Agency (EPA)'s newly expanded list of EPA-registered disinfectant products that meet the requirements for use against SARS-CoV-2, the novel coronavirus that causes COVID-19.
Previously: Pilot Chemical Recognized for Water Environment Efforts
The company's Mason Chemical Company line of products offers a broad range of high-quality EPA-registered hard surface disinfectants under the Maquat and Maguard brands to help customers offer effective formulated products to meet rapidly changing market needs.
While disinfectant products on this list have not been tested specifically against SARS-CoV-2, the cause of COVID-19, they are expected to be effective against SARS-CoV-2 because they have been tested and proven effective on another human coronavirus similar to SARS-CoV-2.
This line includes the Maquat MN series, the Maquat NHQ series, Maquat 7-series, and the Maquat PD series. Also included in the portfolio are the Maguard 5626 and Maguard 1522 based on peracetic acid.
"Our customers serve the consumer, institutional and industrial markets," Richard Rehg, vice president of commercial, Pilot Chemical Corp., said. "In today's world, effective disinfection, sanitization and cleaning products are critical to help ensure the health and safety of everyone including family members, workers, students, customers, and patients. We applaud the EPA for its efforts to fast-track registrations. Pilot Chemical stands ready to meet the market demand for these products. We take very seriously the important role that proper disinfection, sanitizing and cleaning play as our country mobilizes to combat this serious public health threat."
32 Disinfectants:
MAQUAT 128 PD
EPA registration number: 10324-105
Active ingredient: Quaternary ammonium
Contact time: 10 minutes
MAQUAT 256-MN
EPA registration number: 10324-108
Active ingredient: Quaternary ammonium
Contact time: 10 minutes
MAQUAT 128-MN
EPA registration number: 10324-112
Active ingredient: Quaternary ammonium
Contact time: 10 minutes
MAQUAT 64-MN
EPA registration number: 10324-113
Active ingredient: Quaternary ammonium
Contact time: 10 minutes
MAQUAT 32-MN
EPA registration number: 10324-114
Active ingredient: Quaternary ammonium
Contact time: 10 minutes
MAQUAT 750-M
EPA registration number: 10324-115
Active ingredient: Quaternary ammonium
Contact time: 10 minutes
MAQUAT 710-M
EPA registration number: 10324-117
Active ingredient: Quaternary ammonium
Contact time: 10 minutes
MAQUAT 256-NHQ
EPA registration number: 10324-141
Active ingredient: Quaternary ammonium
Contact time: 10 minutes
MAQUAT 64-NHQ
EPA registration number: 10324-154
Active ingredient: Quaternary ammonium
Contact time: 10 minutes
MAQUAT 128-NHQ
EPA registration number: 10324-155
Active ingredient: Quaternary ammonium
Contact time: 10 minutes
MAQUAT 512-NHQ
EPA registration number: 10324-156
Active ingredient: Quaternary ammonium
Contact time: 10 minutes
MAQUAT 32-NHQ
EPA registration number: 10324-157
Active ingredient: Quaternary ammonium
Contact time: 10 minutes
MAQUAT 256 PD
EPA registration number: 10324-164
Active ingredient: Quaternary ammonium
Contact time: 10 minutes
MAQUAT 32
EPA registration number: 10324-166
Active ingredient: Quaternary ammonium
Contact time: 10 minutes
MAQUAT 32 PD
EPA registration number: 10324-167
Active ingredient: Quaternary ammonium
Contact time: 10 minutes
MAQUAT 705-M
EPA registration number: 10324-177
Active ingredient: Quaternary ammonium
Contact time: 10 minutes
MAQUAT 2420-10
EPA registration number: 10324-194
Active ingredient: Quaternary ammonium
Contact time: 10 minutes
MAQUAT 702.5-M
EPA registration number: 10324-198
Active ingredient: Quaternary ammonium
Contact time: 10 minutes
MAGUARD 5626
EPA registration number: 10324-214
Active ingredients: Hydrogen Peroxide; Peroxyacetic Acid
Contact time: 10 minutes
MAGUARD 1522
EPA registration number: 10324-230
Active ingredients: Hydrogen Peroxide; Peroxyacetic Acid
Contact time: 1 minutes
MAQUAT 42
EPA registration number: 10324-57
Active ingredient: Quaternary ammonium
Contact time: 10 minutes
MAQUAT 128
EPA registration number: 10324-58
Active ingredient: Quaternary ammonium
Contact time: 10 minutes
MAQUAT 10
EPA registration number: 10324-63
Active ingredient: Quaternary ammonium
Contact time: 10 minutes
MAQUAT 280
EPA registration number: 10324-71
Active ingredient: Quaternary ammonium
Contact time: 10 minutes
MAQUAT 615-HD
EPA registration number: 10324-72
Active ingredient: Quaternary ammonium
Contact time: 10 minutes
MAQUAT 5.5-M
EPA registration number: 10324-80
Active ingredient: Quaternary ammonium
Contact time: 10 minutes
MAQUAT 7.5-M
EPA registration number: 10324-81
Active ingredient: Quaternary ammonium
Contact time: 10 minutes
MAQUAT 86-M
EPA registration number: 10324-85
Active ingredient: Quaternary ammonium
Contact time: 10 minutes
MAQUAT 64-PD
EPA registration number: 10324-93
Active ingredient: Quaternary ammonium
Contact time: 10 minutes
MAQUAT 20-M
EPA registration number: 10324-94
Active ingredient: Quaternary ammonium
Contact time: 10 minutes
MAQUAT50-DS
EPA registration number: 10324-96
Active ingredient: Quaternary ammonium
Contact time: 10 minutes
MAQUAT 10-PD
EPA registration number: 10324-99
Active ingredient: Quaternary ammonium
Contact time: 10 minutes