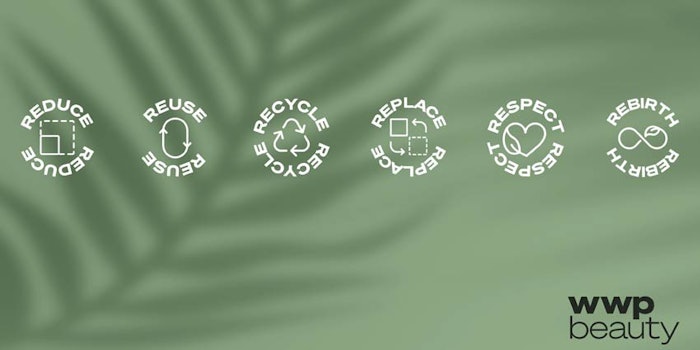 WWP Beauty has announced three milestones that recognize its sustainability achievements: EcoVadis Silver Rating, SA8000 certification and the launch of its Beauty Rebirth Recycling Program.
Related: WWP's Decodes the Refill Revolution

The silver rating from EcoVadis indicates that WWP Beauty's sustainability practice is among the top 25% of globally qualifying companies in environment, ethics, labor and human rights and sustainable procurement performance.
The company's most recent sustainable offerings include renewable, plastic-free packaging, refillable packaging and fully recyclable solutions with mono-material designs.
According to the company, WWP Beauty is among the first to launch a Beauty Rebirth Recycling Program in partnership with nonprofit Pact Collective. The program educates and provides employees and visitors a method to properly recycle hard-to-recycle beauty packaging.
WWP Beauty's wholly-owned tube factory, Suzhou, received its SA8000 certification representing a commitment to social accountability and implementation of best practices.
Josh Kirschbaum, WWP Beauty's CEO, said, "At WWP Beauty, we are continuously working towards implementing sustainability as a full-service approach, not just in our product offerings, but also holistically throughout our entire supply chain including our offices and factories. Reducing our environmental footprint, developing sustainable products, creating further transparency and aligning ourselves with impactful sustainability initiatives are represented in these recent milestones and achievements."
Kirschbaum continued, "We are incredibly proud to achieve our SA8000 certification and the prestigious EcoVadis Silver rating in recognition of our efforts, as well as becoming one of the first beauty packaging suppliers to launch a Beauty Rebirth Recycling Program with Pact Collective, further reducing waste in the beauty industry. All of these initiatives and partnerships further our mission of building a future that is clean, inclusive and sustainable."