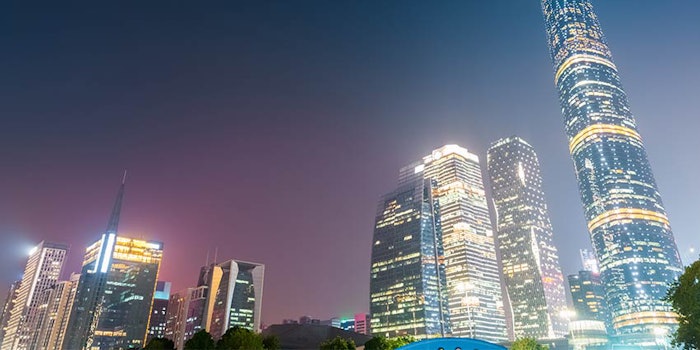 Merck KGaA Darmstadt, Germany has signed an agreement with Guangzhou Development District for innovation development in Southern China.
The agreement will see Merck KGaA, Darmstadt, Germany, establishing the Merck Guandong Innovation Hub, located at the International Biotech Island of Guangzhou Development District, Huangpu District, Guangzhou City. The 700 square meter facility will include a showroom to demonstrate the company's latest technologies, innovation projects and the future research direction of its three business divisions—healthcare, life science and performance materials.
The hub will integrate the advanced technologies and expertise of Merck KGaA, Darmstadt, Germany, and its partners, including startups, academic institutions, business partners and local government. Together, they will develop technologies and promote business in the area, while fostering innovation among employees and seizing new cross-sector opportunities, with the goal of bringing new technologies and solutions to both China and the world.
Startups selected for the company's three-month China Accelerator Program will have the opportunity to join the hub in China first, then move to the company's innovation center at its Darmstadt, Germany headquarters to develop their projects further and explore the European market. Merck KGaA, Darmstadt, Germany, will also see the startups through their series A funding phase. The program's application period runs through Jan. 25, 2019.
The innovation hub is the Merck KGaA, Darmstadt, Germany,'s latest move in China, which also includes an agreement signed with Alibaba Health in June 2018, the opening of a new technology center for OLED customers in Shanghai during that same month, and a Life Science Center set to open in 2019 near the company's pharmaceutical production plant in Nantong, China. Across divisions, there are more than 3,500 Merck KGaA, Darmstadt, Germany, employees in China.
"China is a major innovation hotspot and one of our most important growth markets. We are now creating a strong platform for Merck KGaA, Darmstadt, Germany, and our partners to drive innovation in Southern China. At the same time, we are strengthening our footprint in this vibrant ecosystem of innovation," said Kai Beckmann, member of the executive board of Merck KGaA, Darmstadt, Germany, and CEO, performance materials.
"We are very glad that Merck KGaA, Darmstadt, Germany, has chosen Guangzhou Development District," added Hong Qian, deputy director of Huangpu District Government of the Guangzhou City. "With the extensive facilities and innovation ecosystem in Guangdong, we believe that the Merck Guangdong Innovation Hub will be successful."