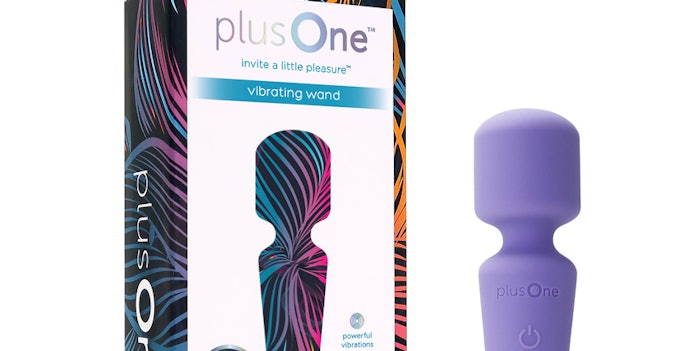 Sexual wellness innovators are giving a whole new meaning to self-care. They have uncovered a side effect of arousal that can change beauty routines as we know it.  Pleasuring yourself not only makes you feel better, but look better, too. If you are like me, I never thought I would be reading this in a respected beauty magazine, but you better jump on these new opportunities.
These brands are breaking down barriers and disrupting outdated taboos by making sexual pleasure a part of everyday self-care and beauty routines.
Surprising Skin Benefits
plusOne, the first company to successfully make pleasure an everyday occurrence with high-quality yet affordable and accessible vibrators, conducted an unlikely study to understand the benefits of regular masturbation and orgasms on the skin. (Study results are due to be published publicly soon. -Editor)
The study was conducted with 30 women, ages 35-50 with a diverse range of ethnicities and body types. The IRSI data shows that four weeks into the study, women saw that masturbating to completion at least three days per week led to improved firmness, elasticity, and radiance of their skin.
By week eight, the results continued to show an enhanced overall appearance of skin, including improved texture and tone, as well as diminished sagging, fine lines and wrinkles. The participants  collectively reported that their skin felt tighter, firmer, and looked brighter and more lifted.
Now we know that pleasing your sexual desires at least three days a week can lead to healthy, radiant skin."This cutting-edge research opened up a whole new world of possibilities when it comes to the future of skin care," said Jamie Leventhal, founder of plusOne. "We are bringing innovation to the beauty industry in an unprecedented way."
The boost in sales of plusOne vibrators at Walmart and other mass retailers during the COVID-19 lockdown indicates we don't need another reason to masturbate, but beautiful skin is just an added bonus.
Beyond Sex
Self-pleasure isn't the only way to achieve better skin through sexual wellness, however.
Chiavaye, a new woman-owned brand launching at Walmart, is changing the conversation by focusing on health, not sex when it comes to its Premium Personal Lubricant. The multipurpose moisturizer can be used to remove makeup, hydrate the hair, treat chafing caused during breastfeeding and pamper dry skin from your face to your intimate areas with its six natural oils.
"We worked with physicians and naturopaths to create a skin-nourishing formula that is sensitive enough for personal areas and versatile for bath, hair, skin and nails," said Chaivaye founder Kaylyn Easton.  
In the luxury market, CBD brand HighOnLove extended its line of CBD sensual oils with a Lip Gloss for Couples, designed to plump and hydrate the lips and intimate areas for enhanced foreplay. HighOnLove founder, Angela Mustone, a specialist producer of adult cosmetics, wanted to bring luxury design and sensuality to women who are in touch with their desires.
Changing the Conversation
Cosmetic brands have been trying to cross over to the self-love space for years. This is the first time we are seeing sexual wellness brands penetrate the beauty industry while normalizing the conversation around intimacy and self-pleasure.
It's no longer just about loving yourself, it's about satisfying your every desire and looking positively radiant when you do so.
Nancy Trent (www.​trentand­company.​com; nancy@​trentand­company.​com) is a writer and speaker, a lifelong health and beauty advocate, a globe-trotting trend watcher and the founder and president of Trent & Company, the leading wellness PR firm. Trent & Company, which launched many health and beauty brands, grew out of Nancy's personal and passionate commitment to helping people live longer and healthier lives. A former journalist for New York magazine, Nancy has written seven books on healthy lifestyles, serves on the editorial boards of several magazines and travels around the world speaking at conferences and trade shows on trends in the marketplace. She is a recognized expert in PR with more than 30 years of experience creating and managing highly successful campaigns.