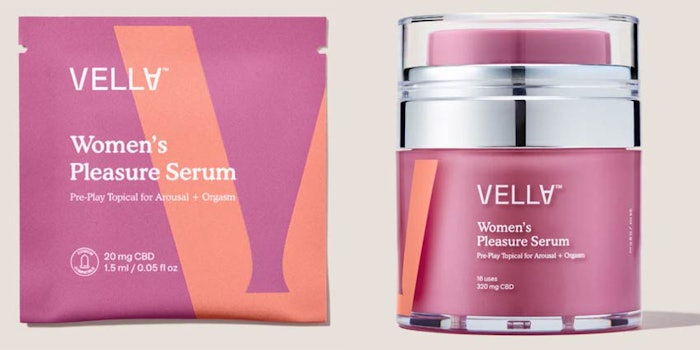 Vella Women's Pleasure Serum is a topical sexual wellness product designed to enhance arousal and orgasms, per the brand. The cruelty-free formulation comprises nano-encapsulated CBD to penetrate the skin to relax the vaginal and clitoral smooth muscle tissue in women aged 23 to 75, according to Vella.
Other key ingredients include phospholipids, propanediol and vitamin C. The product reportedly takes 15-25 minutes to begin working and lasts for two hours.
Report: Sexual Wellness Brands Get into Beauty
The serum is available in two variants, the Multi Use ($65) and Single Use (2 ml; $8).
Launched by Vella Bioscience, Inc., the innovation was developed by chief scientific officer Harin Padma-Nathan, MD, who was the lead principal investigator for Viagra and Cialis, and Michael Frid, Ph.D., Vella's chief product officer.
Market overview: Sexual Wellness x Beauty
Nial DeMena serves as CEO of the company, while Carolyn Wheeler serves as co-founder and COO. Bulbul Hooda is the company's brand creator and CMO. Its scientific advisory board and board of directors include Nicole Prause, Ph.D., a clinical psychologist at Happier Living, and Lily Garfield, founder and co-chairman of Cos Bar.
In May 2021, around the time of its launch, the brand secured $7 million in an "oversubscribed" seed II funding round anchored by Aaron Fleck & Associates, generating a $50 million valuation.
"This is a critical milestone that will drive Vella Bioscience's future growth and we're grateful for the overwhelming support from a diverse network of investors," said DeMena. "We exceeded our initial goal by more than $2 million and haven't seen this type of response from investors within the femtech space before–especially during a pandemic year. Our raise is a true testament to the market's enthusiasm for category expansion and the power of our team and science-based approach." 
"Vella is arriving on the market at a pivotal moment when major changes in the cultural acceptance of female sexual pleasure are happening," said Wheeler. "We are leading the charge of exemplifying that women's sexual wellness is an integral part of women's health, happiness, and right to pleasure. Our science-based approach truly sets us apart from any other product on the market and investors recognize that."
"We hope to see Vella spur a new sexual revolution–one of sexual orgasms, equality and liberation," said Padma-Nathan. "Vella is sensual intelligence in a bottle. It gives women the power over their sexual pleasure no matter their age, sexual orientation or life stage."
"Women's sexual wellness hasn't been taken seriously," added DeMena. "We saw the need for science and research conducted by experts in women's pleasure, and we are committed to doing it right."