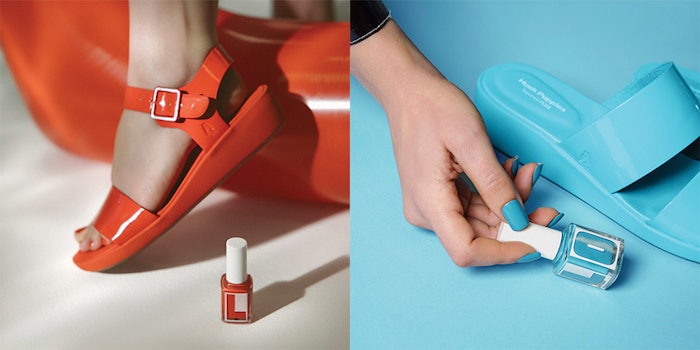 Hush Puppies
Hush Puppies is teaming up with Loud Lacquer to celebrate Hush Puppies' newest shoe: the Brite Jell.
Related: Launch Roundup: Womaness, Elemis, Susteau and More
Together, the brands are pairing Hush Puppies' jelly sandals with Loud Lacquer's four new, matching nail polish colors, Brite Shades.
Each sandal meets its match with Loud Lacquer's four new Brite Shades, available in Lawn Flamingo (red), Soft Swap (yellow), PHC (Caribbean blue) and Go To (black).
Melody Hammer, CEO and founder of Loud Lacquer, said, "We at Loud Lacquer love living in color, and it feels good to be seen and heard by such an iconic brand that shares our same confidence and positivity. The Brite Jells and Brite Shades collaboration is a great opportunity to match our bright nail polish shades with super fun and colorful jellies. Color on color. All day!"
Kate Pinkham, general manager and vice president of Hush Puppies, said, "We loved that jellies were making a comeback, but we wanted to put our ultra-colorful and comfortable Hush Puppies spin on the style. This Loud Lacquer partnership to launch the Brite Jells and Brite Shades collection has been a great collaboration – they are really optimistic, colorful, and fun, just like the Hush Puppies brand. We are excited about the opportunity to introduce new consumers to both of these like-minded brands."