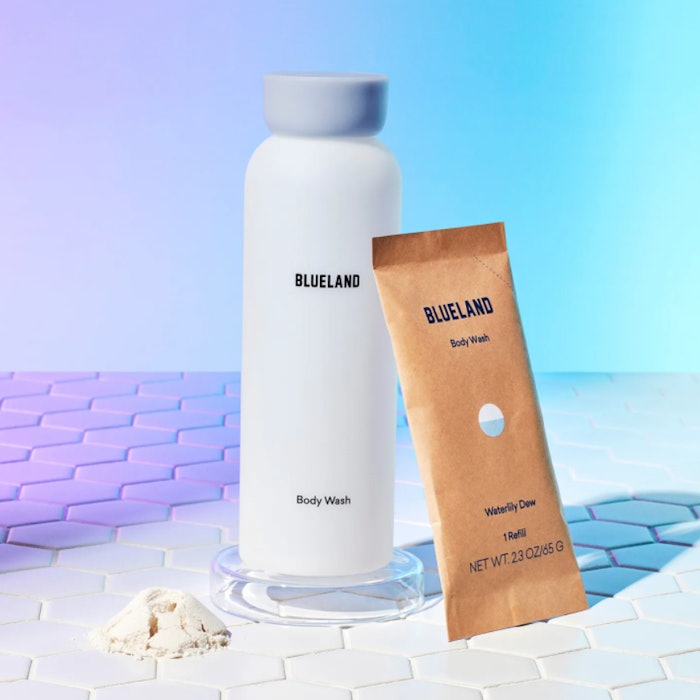 Blueland has launched a Body Wash Starter Set that includes a powder-to-gel body wash and a powder refill pack. It is formulated with vitamin E, oat kernel flour, kaolin clay and coconut acids to cleanse, moisturize and hydrate skin.
Related: Vedix Debuts Body Care Line
When mixed with water, the Forever Bottle powder becomes a gel that completely fills the 18 fl oz. bottle. The body wash is available in three scents: Waterlily Dew, Sandalwood Sage and Raspberry Hibiscus. The Starter Set comes with one 2.3 oz. powder refill; the Variety pack includes three powder refills.
The Body Wash Starter Set costs $16 and the Variety Pack costs $27; available at blueland.com.
Ingredients: disodium cocoyl glutamate, hydroxypropyl starch phosphate, acacia senegal gum, sodium cocoyl isethionate, xanthan gum, avena sativa (oat) kernel flour, coconut acid, citric acid, glutamic acid, sodium citrate, sodium benzoate, potassium sorbate, kaolin clay, fragrance, tocopheryl acetate