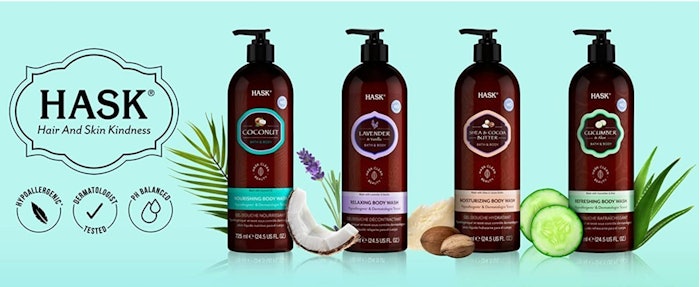 Hask Beauty has launched its Hask Body Wash collection exclusively on Amazon.
The pH-balanced, hypoallergenic and dermatologist-tested collections include:
Coconut Oil, a hydrating formulation for dry skin featuring scent notes of vanilla, coconut and musk, almond blossom and sweet florals. The formulation comprises coconut oil, lauric acid, vitamins K and E, and orange oil.
Shea & Cocoa Butter, a smoothing and moisturizing formulation featuring scent notes of vanilla, florals, cocoa, almond and sandalwood. The formulation comprises shea butter, cocoa butter and vitamin E.
Lavender & Vanilla, a detox formulation comprising scent notes of lavender extract, vanilla extract and lemon oil, the latter of which offers antibacterial properties.
Cucumber & Aloe, a refreshing, softening formulation comprising cucumber extract, aloe vera powder and vitamin E, the latter of which fights free radicals and aids in skin health.