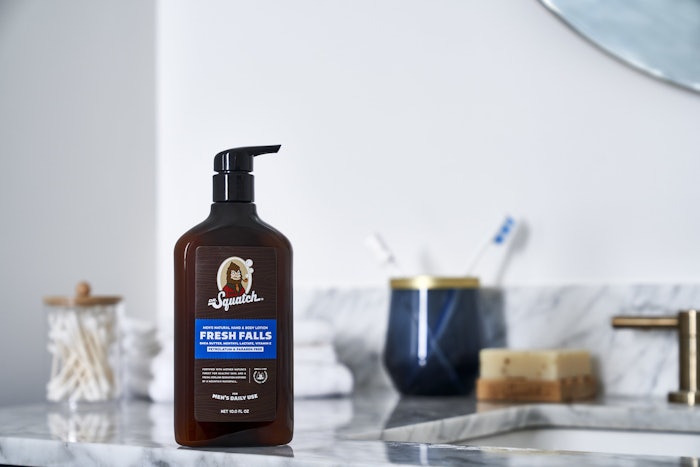 Dr. Squatch has expanded into body skin care sector with the launch of a hand and body lotion line in three scents: Fresh Falls, Pine Tar and Cool Fresh Aloe.
Key ingredients include shea butter, vitamin E and coconut oil.
The launch is in line with Q2 prestige data from NPD, which showed that body skin care grew at a faster rate than facial skin care, with sales up 26% and 11%, respectively.    
Furthermore, Dr. Squatch claims that only 50% of men currently use hand and body lotion, "despite dry skin being one of the top personal care concerns for men."
This creates a clear incentive for the brand to capture category share.
"The launch of our natural men's lotion is an exciting milestone for Dr. Squatch, and supports our goal of providing high quality, natural personal care products for everyday guys," said Josh Friedman, chief marketing officer at Dr. Squatch. "Our customers have been asking us for years to create a lotion, and we are excited to deliver it to Squatch Nation. Men tend to follow a reactive approach to skin care and lack education on the benefits of using body lotion on a regular basis. Dr. Squatch wants to flip this narrative by educating men on the benefits of using lotion regularly, not just for dry skin because all people deserve to have soft, healthy skin." 
The lotion is available to Dr. Squatch subscribers for $15, or $16 for one-time purchasers at www.drsquatch.com.