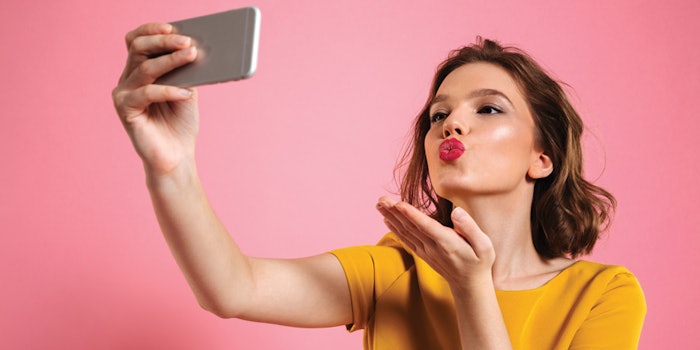 About 77% of the U.S. population owns a smartphonea and, in 2016, more than 1.5 billion smartphones were sold around the worldb. The constant availability of a high-quality camera at our side has given rise to the selfie phenomenon (F-1). Twitter declared 2014 "the year of the selfie." Today, smartphone users take more than 93 million selfies every day;c 76% of all pictures uploaded to Snapchat are selfiesd. And, with last year's launch of the new iPhone X and iOS 11, selfies are about to reach a new level of sophistication, creating vast new opportunities for the beauty industry.
Social media and selfies have had a significant impact on the beauty industry already, helping drive a boom in several product categories, particularly makeup. According to Euromonitor Internationale data, the global color cosmetic market grew from about $61 billion in 2016 to $63.4 billion in 2017 (projected), with a forecast of $72.4 billion by 2021.
This color cosmetics growth has been fueled in part by technology, which has helped it capture the coveted millennial demographic. Unsurprisingly, the category has been led by selfie-friendly categories such as eye makeup, facial makeup and lip products.
Creating New Experiences
In this crowded market, beauty brands see the creation of experiences around the purchase of a product as a key competitive differentiator, resulting in greater consumer engagement and connection. These technologies have created interactive and immersive new applications that allow beauty shoppers to virtually try on and experience makeup, hair care and skin care products, taking the guesswork out of "how is this going to look on me?"
Beauty apps are already driving sales at leading beauty companies like Sephora, L'Oréal, Estée Lauder and Smashbox. For example, augmented reality (AR) technology powers some of the best beauty applications available on your smartphone, from L'Oréal Make Up Genius and Sephora Virtual Artist to YouCam Makeup.
AR superimposes digitally generated images on top of the real world in real time, as seen in Snapchat filters. Modiface is one the leaders in providing AR technology for the beauty apps. The company's software scans your face, measuring 68 unique parameters to give you some of the most realistic digital looks on your smartphone.
The Implications of the iPhone X
The Apple iPhone X is a new tool in the arsenal of the beauty industry. This smartphone introduces the most sophisticated face mapping technology available to consumers: Face ID. Face ID uses a set of sensors on the front of the phone to scan your face in minute detail.
The TrueDepth camera creates a model of your face by projecting and analyzing more than 30,000 invisible dots, while also capturing an infrared image of your face. This extremely precise map of your face—coupled with Apple AR development toolset, ARKit—can be used in beauty apps to dramatically improve the realism of the looks offered by virtual try-on apps and opens new possibilities such as digital makeup.
The iPhone X's TrueDepth facial mapping abilities allow it to power Animojis that are animated by mimicking user's facial muscle movements in real time. These Animojis reveal the extent to which facial mapping can be applied to sophisticated real-time augmented reality features, such as virtual makeup try-ons. The Face ID technology is also highlighted in the latest Snapchat mask filters, which realistically match every movement of facial muscles.
Finally, the iPhone X face tracking technology can provide apps with information on the features that describe more than 50 types of facial expressions. Imagine a smartphone that knows when you are sad, happy or exhausted. This now exists.
Together, these new technologies open a world of possible beauty applications, including:
Virtual try-ons.
These will show your looks under different lighting conditions and move naturally with your face. ModiFace, for one example, has already developed technology that can allow consumers to adjust looks based on lighting conditions.
Mood-based Beauty
By leveraging the recognition of facial expressions, the iPhone X and similar forthcoming smartphones could boost the prospects for mood-based digital makeup and makeup recommendations.
Personalized Influencer Tutorials & Beauty Professional Training
Tutorials from your favorite beauty influencer could one day offer consumers an opportunity to have their digital faces made up by talented makeup artists.
Digital Makeup: a New Frontier
Many of our interactions occur via camera. We join video conferences, chat on Skype and FaceTime, broadcast on Facebook Live, create stories on Snapchat and Instagram, and share selfies. Users want to look their best during these interactions. This creates vast new opportunities for digital makeup.
Digital makeup allows the user to apply cosmetics and style the hair with no preparation time. This is the ultimate in convenience and instant beauty. Furthermore, it allows the user to express their individual creativity, experimenting with more looks than he or she would have time, resources or the bravery to try in real life. This is a clear boon for beauty marketers seeking to bridge the gap between brick and mortar and digital channels.
Early versions of this concept have already been released to the public. In late 2016, Shiseido and Microsoft Japan partnered on a digital/virtual makeup tool for telecommuting women to use on business video calls. The app, called Telebeauty, operated via Skype For Business and applied virtual makeup to the user's video image. The initial launch allowed callers to preselect from four looks: natural, trend, cool or pretty. The app was also able to digitally correct pores, dark spots and blemishes, while also applying digital blush, lipstick and eye makeup.
Digital makeup also opens the door for tech companies to enter the beauty industry. Those companies could expand the filters in their apps or create new apps to include detailed makeup tools. It is possible to foresee one day in the future a tech company with the top-trending digital makeup app working to bring the makeup to a retail platform for the consumer to buy and use in real life.
Conversely, makeup brands have pursued tech partnerships and acquisitions to reach consumers in the virtual space with new AI-powered innovations. In addition to several brand partnerships with ModiFace, Perfect365 and similar firms, Shiseido has purchased Giaran and MatchCo within the last year, boosting its ability to offer virtual try-ons, tutorials, color and skin tone matching, and more. In addition to offering enhanced engagement, AI will allow Shiseido to increasingly customize products based directly on consumer data.
The Future
As new AR and AI capabilities continue spread throughout the beauty market, consumers will feel more engaged with brands and retailers. Looking ahead, the beauty market of the future will organically incorporate technology into the brand experience.
Footnotes:
aPew Research Center; www.pewinternet.org/fact-sheet/mobile/
bGartner; www.gartner.com/newsroom/id/3609817
c,dAs of 2015, per Rawhide's data; www.rawhide.org/blog/infographics/selfie-obsession-the-rise-of-social-media-narcissism/
eEuromonitor International; www.euromonitor.com
Sergio Cecutta is a partner at SMG Consulting (www.smg-consulting.com). The firm analyzes markets, customers and trends to provide its clients with insights informing new products and new services. The combined experience in executive roles and consulting engagements in several industries across the world, from Asia and Europe to the United States, coupled with the work in launching a skin care natural body polish brand, enables the firm to uncover the real needs of the end users and help its clients develop profitable products with the right benefits.