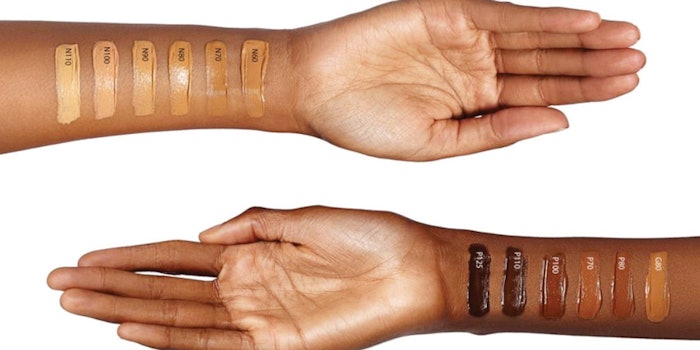 When Time placed Fenty Beauty on its 25 Best Inventions of 2017 lista, it felt like an acknowledgement of a rising tide of innovation that's broadened the scope of an industry that has struggled to embrace all consumers. Of course, Rihanna didn't invent inclusive makeup, but she served as a figurehead of the movement that has been steadily reshaping brands, products, marketing, technology, and an entire industry's mindset around how it views individuals and groups.
Mintel's Global Trends 2018 reportb notes, "Consumers will demand personalized beauty defined on their individual terms, and brands will embrace inclusivity by looking beyond age, gender, sexuality and body type."
The report adds, "The ever-evolving perception of beauty will see the removal of labels that are based on simple characteristics like age and gender, and will transform the way we look at our skin, hair and body types. This will cause brands … to embrace inclusivity and address individual beauty concerns, which will result in more customization and personalization of products—assuring the consumer that beauty choices are theirs to be made, and theirs alone. The time has come to celebrate individualism in all its beauty."
Nude is Not Beige
The most recent annual Pinterest 100 list found that, in 2017, saves for "complexion matching" jumped 378%c, indicating skyrocketing interest and awareness from consumers. It's no wonder.
Rihanna, in partnership with Kendo Brands, launched Fenty Beauty in 1,600 Sephora stores across 17 countries on one day last September. Built around a universal shade palette, the 91-SKU line included 40 shades of Pro Filt'r Soft Matte Longwear Foundation, one universal Pro Filt'r Instant Retouch Primer, 30 magnetic Match Stix Skinsticks in both matte and shimmer finishes, six cream-powder hybrid Killawatt Freestyle Highlighters for face and eyes, Invisimatte Blotting Powder and Paper, and one universal lip gloss known as Gloss Bomb, in addition to application tools.
Numerous brands have historically tooled their product mix to address under-served skin tones, including Iman Cosmetics, Black | Up, Black Radiance Makeup, Hue Noir and Black Opal Beauty, and other general market brands had already begun to expand their available shade ranges. But the sheer scale of the Fenty Beauty launch propelled the market and the public conversation in a way never before seen.
Even the Kylie Cosmetics juggernaut responded to the Fenty splash with the introduction of 30 shades of The Kylie Cosmetics Skin Concealer, which provides long-wear medium buildable coverage. The launch was viewed by many as a me-too introduction, with some consumers simply not convinced. For example, FreshFaceHoney (@TheeOnlyOciera) tweeted, "If Fenty Beauty didn't drop a few months ago, the darkest shade would have been Warm Tan. Recognize your icons and what they do for you."
Meanwhile, Cover FX introduced its Natural Finish Foundation range, which comprises 40 shades. Tellingly, the campaign launched with the hashtag #NudeIsNotBeige.
"The time has come to celebrate individualism in all its beauty." -Mintel's Global Trends 2018 
Upstart brands are also getting in on the movement. For example, a new startup, Pound Cake, is ramping up to produce its Hot Cakes collection of lipsticks that will fit specific lip tones. The initial range comprises five "fiery" red matte lipsticks that vary from light to medium to warm to deep and rich. The brand has inclusivity written right into its mission: "We are a pro-black, pro-fat and pro-trans feminist company and will continue to act in a manner that reflects as such."
Other indies touting inclusive SKUs have enjoyed attention from major beauty companies seeking to diversify their offerings. For instance, Beauty Bakerie, an inclusive brand of long-lasting cosmetics, has closed a $3 million seed round led by Unilever Ventures and joined by institutional investors 645 Ventures and Blue Consumer Capital.
Founder Cashmere Nicole noted, "We are extremely honored, fortunate and grateful for the opportunity to partner with such exceptional investors whose proven track records can only lend to the growth of this brand and to the growth of our team."
The brand has more than 400,000 Instagram followers and has expanded from digital-only to 10 doors of the new Riley Rose chain, QVC UK, HSN, Sephora SEA, and in 40 of Wojooh's doors in the UAE and KSA.
Technology's Role in Inclusivity
Augmented reality breakthroughs are creating new opportunities for brands. For instance, Perfect365 Pro allows makeup artists to create digital face charts to experiment with colors and products before making purchases. It also allows them to experiment with looks on various skin tones, virtually.
Shiseido has put mobile devices' scanning capabilities to work to produce perfect-match makeup for consumers of any skin tone. Powered by MatchCo's AI, the iPhone beauty app, Made-2-Fit, uses the phone's camera to scan users' skin tones and then generate a custom-blended bareMinerals Fresh Faced Foundation ($49 for a 30 ml bottle) that is subsequently delivered to the consumer's doorstep. The required six skin tone scans are led by the app's virtual makeup artist voice guidance.
"This development marks a sea change in makeup selection, purchase and consumption," according to Shiseido.
Changing the Faces & Bodies of Brands
Legacy and upstart brands alike are also shaking up their selection of spokespeople and models, reinforcing their inclusive messages. Last year, for instance, as part of the brand's revamp, CoverGirl introduced a diverse array of women as spokespeople, including pop star Katy Perry, 69-year-old dietitian Maye Musk, actress and producer Issa Rae, Ayesha Curry, motorcycle racer Shelina Moreda and personal trainer Massy Arias.
In a statement, Rae noted, "Becoming a CoverGirl means a lot because the brand recognizes just how important it is for people to embrace their individuality and express themselves in unique and diverse ways. This has been a major part of my personal journey, and a message that I want to share with others."
Soon after, L'Oréal Paris named Aja Naomi King as its newest spokeswoman, appearing in a True Match Lumi Glow campaign promoting a new collection consisting of the Glotion Natural Glow Enhancer, Glow Nude Palette, Shimmerista Powder, Glow Amour Glow Boosting Drops and Bronze It Bronzer.
King noted, "Makeup became my armor growing up. It provided me with a sense of protection and gave me the power and confidence to face the world in the way I wanted … I am so excited to help others find and believe in the beauty of who they are because everyone deserves to know their own worth."
Marketing campaigns are stretching beyond just the faces of their campaigns. For example, Glossier promoted its Body Hero Daily Oil Wash and Daily Perfecting Cream, which hydrates and leaves a glowy sheen on the skin, by illustrating the products' effects on models of various body types, from basketball player and Olympic Gold medalist Swin Cash Canal to influencer Mekdes Mersha to plus-size model Paloma Elsesser.
It's Bigger than Skin Tone
Beyond complexion, brands are finding ways to communicate an inclusive message. For instance, L'Oréal U.S.A.'s corporate efforts recently scored a perfect 100 on the Human Rights Campaign Foundation's 2018 Corporate Equality Index (CEI) and was named "Best Place to Work for LGBTQ Equality."
The company has launched employee-driven think tanks, including OUT@L'Oréal, "which advances initiatives that protect LGBTQ rights and promote well-being across the organization," and has partnered with the Ali Forney Center, an organization that protects LGBTQ youth from the harms of homelessness.
Angela Guy, SVP of diversity inclusion at L'Oréal U.S.A., said, "[W]e prioritize inclusion and engagement efforts with people from diverse backgrounds and communities, both internally and externally. We are focused on making strides in our efforts to champion the LGBTQ community and we are honored that HRC has recognized the magnitude of the work we have done thus far."
Trendy, makeup artist-quality brand Illamasqua has always been at the forefront of inclusivity. Recently acquired by the Hut Group, the brand's holiday 2017 campaign was themed #humanup and focused on breaking down gender and beauty preconceptions with a range of models from the LGBTQ community.
The brand noted, "We are not afraid to be provocative and talk about the complex issues that affect our generation—whether they be religion, race, gender or the environment. That's why for our next campaign, we will be exploring gender. Featuring long-term Illamasqua collaborator and activist, Munroe Bergdorf, alongside 'gender capitalist,' Rain Dove."
It's Bigger than Makeup
Inclusivity has also reshaped the hair care sector. As author Michelle Breyer (TextureMedia) wrote in Global Cosmetic Industryd, the textured hair consumer has specific needs, but may not break down along simple racial lines. That's why it was no surprise that Unilever recently acquired Sundial Brands, which includes Nubian Heritage, Madam C.J. Walker and nyakio, as well as one of the fastest-growing names in the hair care segment: SheaMoisture. Sundial's estimated 2017 turnover was expected to be approximately $240 million.
According to Unilever, the deal "accelerates [its] category growth by addressing under-served needs of multicultural and millennial consumers." As part of the deal, Unilever is developing a purpose-driven partnership to create a $100 million New Voices Fund to invest in entrepreneurial women of color.
Of the deal, Kees Kruythoff, president, Unilever North America, said, "The Sundial team has built differentiated and on-trend premium brands serving multicultural and millennial consumers that enhance our existing portfolio. Sundial is an important addition to our U.S. portfolio of purpose-driven companies, which includes Ben & Jerry's and Seventh Generation."
The future is for everyone.
Footnotes:
ahttp://time.com/5023212/best-inventions-of-2017/
bwww.mintel.com/beauty-trends
cPinterest 100: The top trends to try in 2018; https://blog.pinterest.com/en/pinterest-100-top-trends-try-2018