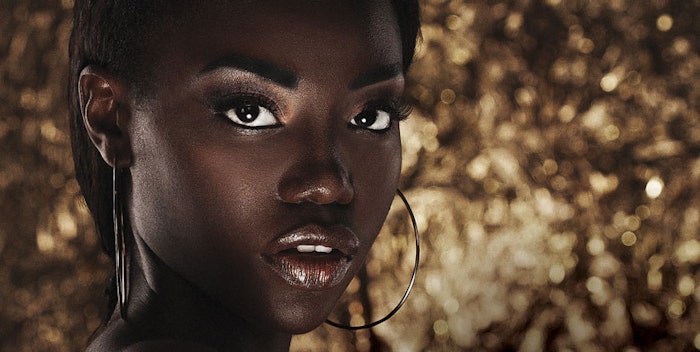 The global color cosmetic market is projected to reach $89.5 billion by 2022 (T-1). While growth has slowed somewhat since the boom of the past few years, several forces are coalescing to continue the next phase of growth.
1. Mass vs Premium
Mass color cosmetics' share of the total color category will decline marginally through 2022, according to data from Euromonitor (F-1); however, the gains in the premium segment will be more significant in markets such as China and the United States.
2. Upstarts vs Legacy Brands
Mass legacy brands are particularly prone to tough competition from rapid, on-trend or low-priced positioning from independent competitors, notably e.l.f., Nyx, Morphe and Colourpop, according to a Euromonitor analysisa of the market. Covergirl, cited in the report, has been particularly responsive.
While it's true that fast-beauty indie brands grab consumers' attention, when it comes to trust CoverGirl has an advantage, built over many decades. Recently, BrandSpark International surveyedb more than 15,000 US shoppers about the brands they trusted most. In the foundation category, CoverGirl took the top spot.
CoverGirl has also leveraged two key trends: augmented reality and inclusive beauty. In the first instance, the brand partnered with Beamly and Holition to create an in-browser shoppable AR makeup try-on platform. CoverGirl parent Coty has also developed a digital accelerator to quickly identify and test new digital tools for marketing and retail.
In increasing its position as an inclusive brand, CoverGirl revamped itself with a new tagline, "I am What I Make Up," and by bringing together a lineup of spokespeople, including 69-year-old dietitian Maye Musk, actress and producer Issa Rae, and motorcycle racer Shelina Moreda. In addition, the brand conducted interviews and mined social media interactions to discover what consumers were looking for in foundations. The result was the 40-shade range of Covergirl's TruBlend Matte Made Foundation.
3. Chasing Inclusivity
In 2017, Mented Cosmetics co-founders KJ Miller and Amanda Johnson pitched themselves to about 80 potential investors, many ultimately passed on the opportunity to fund the brand, which offers "[t]he perfect nude lip shades for women of color." When Miller and Johnson pursued the next stage of funding, they managed a $3 million seed round, led by CircleUp Growth Partnersc and found themselves in the novel position of saying "no" to potential partners. What a difference a year makes.
In the wake of Fenty Beauty's mammoth performance in 2017, many brands—large and small, legacy and upstart alike—have pursued a significant market opportunity to serve more consumers with relevant products.
In addition to CoverGirl's introduction of its 40-shade range of Covergirl's TruBlend Matte Made Foundation, Maybelline has launched 44 shades of its Fit Me! Foundation formulas, Matte + Poreless and Dewy + Smooth. The two launches typify a shift toward more inclusive tones among brands in the mass space.
Inclusive beauty has shaken up the way makeup aisles are being composed. For instance, Target has added more than 150 products designed for medium to dark skin tones to its beauty aisles. The brands featured in the expansion include Coloured Raine, EveryHue Beauty, Haleys, Hue Noir, Makeup Geek, Reina Rebelde, The Lip Bar and Violet Voss.
"We know our guests have a wide range of beauty needs and preferences, and we want to make sure Target has the best assortment for all hair types or skin tones," said Christina Hennington, senior vice president of Beauty and Essentials at Target. "These eight new cosmetic brands will further our range of shade options—from foundation to lip … We'll continue to listen to our guests to understand what beauty products they're looking for at Target, and look forward to seeing their response to these new cosmetic brands."
Supporting inclusivity, of course, requires support for product discovery. Recently, Pinterest reported that 200 million people around the world use the social platform each month. Each week, 70% of active "pinners" report that they have discovered a new beauty or grooming product on Pinterest, and 89% say Pinterest offers ideas for what products to shop for. Notably, 34% find a specific product for immediate purchase within the next month.
As a result, Pinterest has developed an inclusive discovery feature that allows pinners to narrow beauty search results by a skin tone range. The platform initially rolled out four palette options, each representing a different range of skin tones. Pinners can select a palette to narrow search results when looking for beauty ideas.
Global Cosmetic Industry recently interviewed Vikram Bhaskaran, beauty vertical strategy lead at Pinterest, about the new feature and what it means for the future of Pinterest's beauty category.
"Modiface is very critical to this launch," says Bhaskaran. "We wanted to work with a technology partner who already had a software development kit (SDK) that allowed us to map out skin ranges and then do machine learning on the technology to train Pinterest and get smarter. Modiface helps us to rank and query the billions of pins in the beauty category and help us learn and categorize them based on shades and color. We also have a human evaluation element, called Sophia, that combines human intelligence and machine learning and makes this really powerful."
Footnote:
aSource: Euromonitor's proprietary Passport platform (http://go.euromonitor.com/passport.html)
bwww.brandspark.com/
cTanya Klich, "Mented Cosmetics Raises $3 Million In Funding, Highlighting Opportunity For Multicultural Makeup Brands," May 22, 2018; www.forbes.com