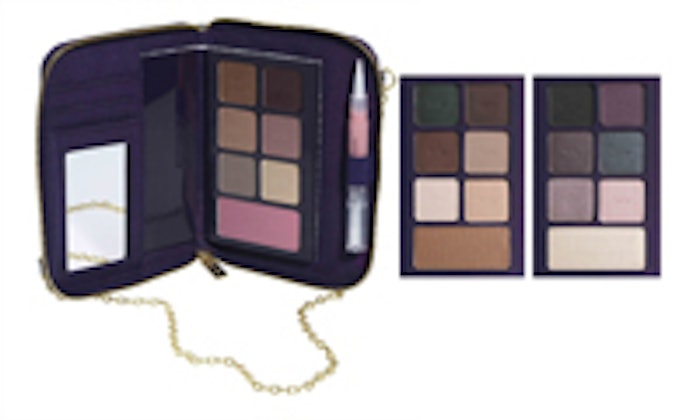 We had three goals in mind for our holiday collection this year: reusability; capturing a luxe, old-Hollywood glam feel while incorporating natural ingredient; and of course, great value. Our product development process is very organic—it evolves from many different forms of inspiration. For this collection, we drew from color and texture, while maintaining the richest color payoff possible. The core of our development is focused on meeting our customers' need for high-quality color, while also being eco-friendly and maintaining our high-performance naturals platform of "good for you glamour." Our beauty brand offers naturally formulated, clinically proven cosmetics in richly designed reusable packaging.
Our inspiration for the Starlet Limited-edition Makeup Vanity, exclusively available at Sephora, came from a gorgeous mirrored dresser we spotted—we wanted to create something that felt equally special, and that customers could set on their vanity and keep once the makeup was gone. This keepsake piece fulfills that purpose. It features  crafted mirrored panels with beveled edges, sparkling silver inlays in each pullout drawer that reveal Tarte's signature pop of purple, and a large pop-up mirror. Once the makeup is used, the removable trays can be taken out, leaving this keepsake vanity to function as a jewelry box.
We also wanted the starlet to be reminiscent of Old Hollywood screen sirens, with glamour as a major component. As a result, we created six richly pigmented, color-coordinated eye shadow quads in the two top tiers of the vanity and included deluxe samples of our MultiplEYE Lash-enhancing Primer, and Lights, Camera, Lashes! Mascara for the finishing touch. The third tier features Tarte's Amazonian clay blushes, shimmering powder and Park Avenue Princess Bronzer to help complete an all-over glam look.
Our inspiration for the Puttin' On the Glitz Limited-edition Color Collection & Clutch was also the iconic glamour of Old Hollywood combined with one of this season's most sought-after accessories—a sleek silver carry-all. Featuring a gold chain crossbody bag and metallic python leather (faux, of course), this clutch is meant to turn heads, while encasing a secret makeup palette. With three interchangeable palettes, it holds a combined total of 18 eye shadows, one lip gloss, one Amazonian clay infused blush, shimmering powder and bronzer, along with a detailed get-the-look instruction card. In order to make the most of this reusable clutch, each palette easily snaps into the interior of the bag.
We also added four credit card slots and a removable mirror, making this a go-to clutch for any night out. We wanted something that felt high fashion and of the moment; something you'd want to wear out at night. By making the palettes interchangeable you could reuse the clutch anytime, even without the makeup, if you choose.
The Tarte holiday collection wouldn't be complete without a lip collection. The Lip Service Limited-edition LipSurgence Collection was designed with variety and value in mind. We wanted to give our LipSurgence fans five limited-edition shades that were especially appealing for the holidays. Our inspiration for these shades were some of Tinseltown's most iconic smiles, and these lip products pay tribute to some of those leading ladies. And, in keeping with our Old Hollywood theme, we packaged this giftable set with faux diamond detail for that extra touch of glamour. As far as value, we wanted to give our LipSurgence fans a chance to add a variety of shades (five) to their makeup wardrobe for nearly the cost of one, so they are suggested to be retailed at similar prices.
To complement the lips, we also created a colorful eye collection. The limited-edition SmolderEYES Amazonian Clay Waterproof Liner collection was designed with the starlets of yesteryear in mind. We wanted to give our customers fashion-forward shades—six jewel-toned colors, all infused with Amazonian clay, making them waterproof and budgeproof. The same diamond-studded, silver-laced box was used for this glam set to stay in step with the rest of our glitzy, sparkling holiday items.
As a final piece of this collection, we paid tribute to our bestsellers in a giftable fashion. The Shining Stars Limited-edition Best Sellers collection was created to unite four of Tarte's best-selling products with travel-friendly packaging. We thought about convenience during this creation: something people could travel with, especially during the busy holidays, without giving up the luxury of their favorite products. So we designed three of our best-selling and award-winning lip, cheek and lash products in deluxe sizes—plus a full-sized eyeliner pot—with this in mind.